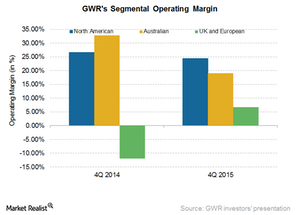 Why Genesee & Wyoming Expects Lower Operating Margin in 1Q16
Lower operating margin
Genesee & Wyoming (GWR) operates on a lower operating margin. In Australia and Europe, an open access rail system allows customers, including GWR's, to choose their transporter. It substantially increases competition and thus costs. In North America, usually one rail carrier directly serves a customer on its line. Most of the freight is interchanged with other railroads prior to reaching its final destination. Exclusivity and interchange fees offset operating costs compared with outside US operations.
GWR's North American operating margins are relatively higher compared to its Australian and European operations. In addition, the Freightliner operations carry lower margins that have been added to existing margins. This has created a downward pressure on the margins.
Article continues below advertisement
North American operating margins
In 4Q15, GWR's North American operations reported a total operating profit of $73.2 million compared with $90.3 in 4Q14. It represents a fall of 19%. The company has undertaken a margin improvement program, which includes the following:
removing locomotives from service
headcount reductions
general and administrative expense cuts
Australian operations margins
In the fourth quarter 2015, the operating income from Australia declined 55.8% at $10.5 million compared to 4Q14. The company has undertaken cost reduction initiatives in Australia.
Article continues below advertisement
UK and European operations margins
GWR's UK and European operating income declined 1.1% in 4Q15 compared with 3Q15. Operating income for the fourth quarter of 2015 was $10.9 million. GWR management has initiated UK coal business restructuring to be carried out in three parts:
transition of leased locomotives to other revenue services under open access
restructured workforce expected to be completed in mid-2016
allow expiration of coal wagon leases or convert some wagons for another service
Management outlook
GWR expects North American operating income to decline 2% year-over-year. In Australia, the company projects operating income to decline 25%, or 20% excluding the foreign exchange impact. It foresees a reduction of $15 million in its operating margin on revenue loss from Australian mining. In the United Kingdom and Europe, GWR believes operating income will remain flat year-over-year. Weaker currency and the impact of coal's decline is expected to offset cost savings in the second half of 2016.
In 1Q16, GWR expects ~$65 million, ~$8 million, and ~$3 million in operating income from its North American, Australian, and UK and European operations, respectively. For 2016, on a consolidated basis, it foresees operating income to remain between $365 million and $394 million.
In current industry fundamentals, all Class I railroads are taking efforts to reduce cost and improve margins. Now let's look at GWR's peers' operating margins for 4Q15:
All the peer group companies, excluding GWR, are included in the portfolio holding of the SPDR S&P Transportation ETF (XTN). This ETF holds 13.3% in Class I railroads.