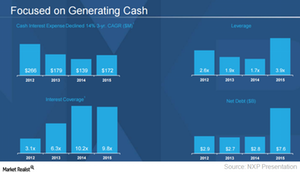 How Much Did the Freescale Acquisition Impact NXP Semiconductors' Balance Sheet?
Impact of Freescale acquisition on NXPI's balance sheet
In the preceding part of this series, we saw that NXP Semiconductors (NXPI) outperformed the industry in fiscal 4Q15 as the merger with Freescale increased its exposure in the fast-growing automotive semiconductor market. While the $11.8 billion merger increased NXPI's revenue, it also increased the latter's debt levels. Now let's gauge the impact of this merger on NXPI's balance sheet.
Article continues below advertisement
Cash position
In fiscal 4Q15, the company earned $271 million in cash from operating activities, spent $92 million in capital expenditure, and saw $151 million in share buybacks. It received $1.8 billion cash from the divestiture of its RF Power business to Jianguang Asset Management.
As of December 31, 2015, the company's cash reserves stood at $1.6 billion, and its long-term debt stood at $8.6 billion. This indicates that the company does not have sufficient cash to repay its long-term debt, which is eight times the company's available cash.
Long-term debt
The company's long-term debt increased from nearly $4 billion at the end of fiscal 2014 to $8.6 billion at the end of fiscal 2015. This includes a $2.7 billion five-year term loan taken on by the company to fund the cash portion of Freescale acquisition.
But even Microchip (MCHP) is raising debt to fund its Atmel (ATML) acquisition, and Intel (INTC) has also raised debt to fund its Altera acquisition.
Article continues below advertisement
Fiscal 1Q16 guidance
NXPI has posted a positive guidance for fiscal 1Q16. This would be the first full quarter of the combined company where merger synergies would be realized. For fiscal 1Q16, the company expects to post revenues between ~$2.2 billion and ~$2.3 billion compared to its fiscal 4Q15 revenues of $1.6 billion. The guidance comes as the combined company has the potential to earn $10 billion in annual revenues.
The company expects to report non-GAAP (generally accepted accounting principle) EPS (earnings per share) in the range of $1.05–$1.15 in fiscal 1Q16, which is lower than the fiscal 4Q15 EPS of $1.25. Still, this guidance was in line with the analyst estimate of $1.07 EPS and revenues of just over $2.2 billion.
Profitability
On a non-GAAP basis, the company expects its gross margin to be around 49.5% in fiscal 1Q16, compared to 50.2% in fiscal 4Q15. The company expects its operating margin to be around 23% in fiscal 1Q16, which is lower than its fiscal 4Q15 margin of 27%.
With an increase in debt levels, its interest expense is expected to be ~$95 million in fiscal 1Q16. NXPI expects the Freescale merger to results in cost savings of $200 million in 2016. The merger is expected to result in improved performance of NXPI over the fiscal year 2016.
The iShares MSCI Eurozone ETF (EZU) has exposure to European Union stocks of various industries, including semiconductors. EZU has 0.28% exposure to NXPI.
For related analysis, check out Market Realist's Semiconductors page.