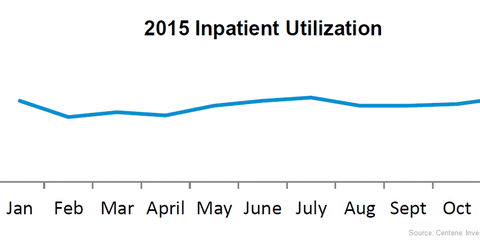 What Subsidy Eligible Membership Could Mean for Centene's Public Exchange Revenues
By Margaret Patrick

Updated
Centene's public exchange business
Centene Corporation (CNC) managed to increase its public exchange membership from 75,000 members in 2015 to 146,000 members in 2015. Additionally, the company has also expanded its presence in the exchange business from nine states in 2014 to 12 states in 2015.
The above graph shows the index for inpatient utilization, tracked on a monthly basis, in 2015. Centene did not witness any sudden changes in inpatient utilization in 2015 for members enrolled from public exchanges. While the overall member demographics remained unchanged, member attrition was also in line with Centene's projections.
The company was also not affected by any unexpected trend in utilization from members enrolled in a special enrollment period. Additionally, less than 20% of Centene's public exchange membership was enrolled in the special enrollment period.
Article continues below advertisement
Other health insurance carriers including UnitedHealth Group (UNH), Aetna (AET), and Anthem (ANTM) faced losses in the public exchange business because they experienced high medical service utilization from exchange enrollees compared to other member categories. Additionally, UnitedHealth Group has also claimed that those public exchange members who enrolled for health insurance services in the special enrollment period utilized 20% more medical services than those enrolled in the open enrollment period.
Public Exchange strategy
About 92% of Centene's public exchange enrollees belong to the subsidy-eligible, low-income member category. The uptake of ACA (Affordable Care Act) compliant public exchange plans has been the highest in this population group. Also, Centene has adopted a disciplined pricing strategy for this business and has hence managed to earn margins within the targeted range of 3% to 5%. This pricing does not include the impact of the risk corridor program.
Article continues below advertisement
The company has also been selective in targeting service areas as well as geographies for its exchange business. With support from an internal team that has been operational for past three years as well as actuarial support from two firms, Centene is expected to continue its effective pricing strategy in 2016. Centene expects to further improve its pricing algorithms in 2016, as the company will be able to incorporate insights obtained from participating in the health insurance exchanges over the past two years.
Future prospects
In addition to its 12 existing states, Centene will now offer ACA compliant public exchange plans in New Hampshire, where a Medicaid expansion program is being converted into a public-exchange-based offering. Centene also expects to benefit from the acquisition of Health Net in 2016, which is projected to add public exchange members from Calfornia and Arizona to Centene's portfolio. Centene has estimated that it will reach about 500,000 exchange enrollments in 2016.
If Centene manages to continue its strong performance in the public exchange business, it will also benefit share prices of the SPDR S&P MIDCAP 400 ETF (MDY). As Centene accounts for 0.51% of MDY's total portfolio holdings, the ETF share price would benefit from favorable changes in the prices of component stocks as well.
Continue to the next part for a look at Centene's specialty services portfolio and diversification strategy.