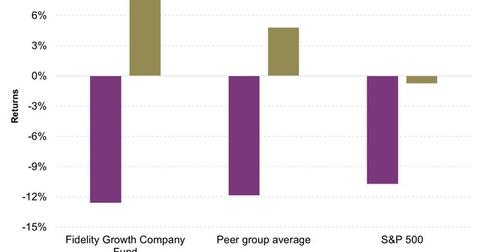 How Has the Fidelity Growth Company Fund Performed in 2016?
By David Ashworth

Updated
The Fidelity Growth Company Fund: Overview
The Fidelity Growth Company Fund (FDGRX) was among the top five largest funds in this peer group, managing assets worth $36.0 billion as of January 2016. The fund releases holding data quarterly. As of December 2015, its assets were spread across 392 holdings and included stocks of NVIDIA (NVDA), Regeneron Pharmaceuticals (REGN), Alkermes (ALKS), Monster Beverage (MNST), and Alnylam Pharmaceuticals (ALNY), which comprise a combined 9.5% of the fund's portfolio.
Article continues below advertisement
The Fidelity Growth Company Fund's performance
Other metrics
The FDGRX's standard deviation, or the volatility of returns, in the one-year period ended February 12 was 19.1%. This was not only much higher than the S&P 500's 16.4%, but it also exceeded the peer group's average of 18.6%.
The fund's risk-adjusted returns, calculated by the Sharpe ratio, amounted to -0.57, worse than the S&P 500's -0.47 for the one-year period ended February 12. For 2015, the fund's risk-adjusted returns were much better than the index's as well as those of a lot of its peers. Even though the fund's point-to-point return performance was better than the FBGRX's, which we reviewed in the previous article, the higher volatility of its returns pulled its risk-adjusted performance metric to the same level as the FBGRX.
The information ratio, calculated with the S&P 500 as the benchmark, was -0.5 for the one-year period ended February 12. The information ratio measures the fund manager's consistency and ability to generate excess returns over a benchmark. However, we can't evaluate a negative information ratio.
A note to investors
Quite like its cousin, the FBGRX, the fund's volatility impacted its risk-adjusted performance in 2015. In terms of alpha generation, the fund lags behind the FBGRX. Its volatility has been on the higher side so far in 2016. As this fund is closed to new investors, this analysis pertains to only existing investors. They should evaluate the longer-term performance of the fund to see whether the fund's objectives and performance still serves their purposes. In the next article, we'll look at the Franklin Growth Fund – Class A (FKGRX).