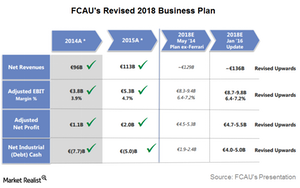 How Fiat Chrysler Plans to Achieve Its Raised 2018 Targets
2018 targets update
On January 27, 2016, Fiat Chrysler Automobiles (FCAU) made a revision to its five-year business plan, which had been originally announced in May 2014. The company highlighted that it has already made a big leap towards the targets set for 2018. This allowed FCAU to upwardly revise its financial targets. The company raised its previous revenue target of 129 billion euros to 136 billion euros for 2018. It expects to be able to expand its adjusted EBIT (earnings before interest and tax) margins to 6.4–7.2% from 4.7% in 2015.
Article continues below advertisement
As shown in the chart, the company also raised its adjusted net profit targets for 2018 to 4.7–5.5 billion euros from 2 billion euros in 2015. Overall, FCAU's 2018 business plan has all the ingredients that are needed to address the challenges the company is facing, such as high debt levels and low profit margins. Now let's take a look at some key ways that FCAU plans to achieve these raised financial targets.
High expectations from North America
In North America, the company sees 2015 and 2016 as industry peak years. It considers the low gas prices and the market shift from cars to trucks and UVs (utility vehicles) as permanent. To be able to achieve its 2018 financial targets, the company is highly dependent on North America. For the region, it expects to expand its adjusted EBIT margin to ~9% by 2018 from 6.4% in 2015. The company believes a product portfolio shift from small cars to pickup trucks and UVs will support margin improvement. By working on efficiencies with cost-reduction measures and production shifts within North America, the company plans to focus more on production technology enhancements.
Other international operations
The company highlighted several developments and action plans for its major international operations.
• FCAU has made a downward revision to its 2018 sales and margin targets from the Latin American region due to adverse economic conditions.
• It's trying to accelerate localization of Jeep production in Asia-Pacific. The company believes localization of Jeep production provides the key to competitive product offerings in China.
• In Australia, the company increased its pricing and plans to maintain its profit margins. However, this may negatively affect the company's sales in the region.
• Auto demand from Europe has been positive and has benefited the company. FCAU plans to focus on cost control in the region along with product mix improvement for the Jeep and Fiat 500 families.
In addition, the company has also delayed the relaunch of its Alfa Romeo luxury brand models due to demand uncertainties from China. For the luxury brand, the company reduced its research and development, manufacturing, and product investments through 2018.
Note that General Motors (GM), Ford Motor Company (F), and Toyota (TM) are also planning to improve their presence in the luxury car segment, as for automakers (VCR), it yields higher margins than the mass-market vehicle segment