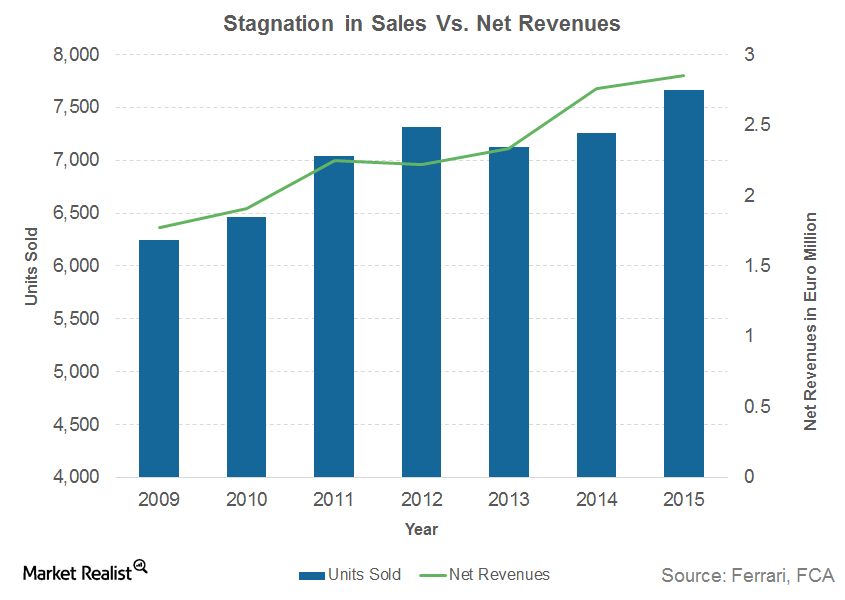 Why Ferrari's 4Q15 Revenues Disappointed the Market
4Q15 revenues
Ferrari (RACE) reported net revenues of ~$829 million in 4Q15, which was down ~1% from about $836.9 million the previous year. The company's 2015 net revenues stood at $3.2 billion, which is 3.3% higher than the $3.1 billion it saw in 2014. But Wall Street analysts were estimating that Ferrari's 2015 revenues would grow at a rate of 3.6%, and this could explain why the market reacted in a disappointed way. In this part of our series, we'll discuss other key factors that might have disappointed the market after Ferrari's 4Q15 results released.
Article continues below advertisement
The shipments story
In the year 2015, Ferrari shipped 7,664 car units globally, compared to 7,255 cars in 2014. This is the highest shipment made by the company ever, representing a 5.6% year-over-year increase. As noted earlier, Ferrari's net revenues last year were up by just 3.3%, and this data suggests that in the last year the company was unable to maintain its high pricing power globally (except in the US) for the vehicles it shipped.
Now let's go back a little to 2014 to understand better what other things might have disappointed the market. Ferrari's 2014 revenues witnessed 18.3% positive growth with just 1.8% increase in the shipments. This was due to higher shipment of its limited edition hybrid, LaFerrari, which was priced at more than $1.1 million dollars. This kind of growth might have raised the expectation of investors for the company. And it's important to note that Ferrari's revenues are highly dependent on special and limited editions like this because such cars are sold with a very high price tag compared to regular car models. For this reason, the company's revenues have been highly volatile over the year.
The China story
Over the past year, Ferrari's shipments to greater China dropped by almost 10%. This includes a 22% shipment increase to Hong Kong and Taiwan and a 22% decrease to mainland China. Lesser shipments to mainland China were attributed to a phase out and to the F12berlinetta reaching its fourth year of commercialization.
Currently, China is the largest auto market in the world, with larger future growth potential, which makes it an obvious key target market for all major automakers. Ferrari's lack of strategy to grow in China justifies the disappointment of investors. But if we look at Ferrari's historical shipment and revenues data, China has never been a major contributor, amounting to just ~5% of total shipments. Therefore, we believe, it's not the only key factor investors should look at while analyzing Ferrari's future growth.
Note that the performances of other major automakers (VCR) such as General Motors Company (GM), Ford Motor Company (F), and Fiat Chrysler Automobiles (FCAU) were also poor in 2015.
Now let's take a look at the positive revenue growth drivers for Ferrari in 2015 and potential in 2016.