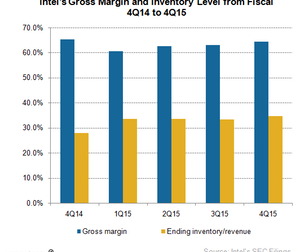 What Factors Drive Intel's Gross Margin?
By Puja Tayal

Updated
Intel's gross margin
In the previous part of this series, we saw that Intel's (INTC) revenue fell 1% YoY (year-over-year) in fiscal 2015. However, the company's gross margins improved sequentially over fiscal 2015 from 60.5% in fiscal 1Q15 to 64.3% in fiscal 4Q15, as it ramped up 14-nm (nanometer) production. However, gross margin was below the 2013 and 2014 levels.
For fiscal 2016, the company expects its gross margin to improve to 63% from ~62% in fiscal 2015. Let's see now what factors would drive gross margin.
Article continues below advertisement
Higher ASP
In fiscal 2H15, Intel's unit sales declined. Dollar sales increased as premium goods with higher ASP (average selling price) were sold more. The higher ASP enabled a higher gross margin for Intel on a sequential basis.
Depreciation
The transition to a smaller node has slowed from two years to two and a half and now three years. This has increased the manufacturing equipment life, allowing the company to spread depreciation expense over five years compared to four years. Quantifying this effect, the depreciation expense will reduce by ~$1.5 billion.
The company expects its depreciation expense to stand at $6.5 billion in fiscal 2016, down by $1.3 billion from 2015. Adding this change, the company revised its fiscal 2016 gross margin guidance from 62%, reported in the November 2015 investor conference, to 63%.
Article continues below advertisement
Acquisition of Altera
The acquisition of Altera would improve Intel's inventory level. However, Intel expects to bring down inventory levels in the second half of fiscal 2016. This might lower gross margin, slightly offsetting the positive impact of reduced depreciation.
Another thing that would negatively affect gross margin in fiscal 2016 is the memory plant being built in China (FXI). It's scheduled to start production in fiscal 2H16. The cost of revenue would be high initially at this plant, thus reducing the company's gross margin.
Operating expenses
Fiscal 2016 is a 53-week year. While an additional week doesn't guarantee higher revenues, it adds to the expense. The company expects its non-GAAP (generally accepted accounting principles) operating expense to increase by 5% YoY. On the other hand, Advanced Micro Devices (AMD) and Qualcomm (QCOM) are reducing their operating expenses to improve margins.
Capital expenditure
Intel is undergoing a transition in 2016. It has committed $9.5 billion to capital spending. Even Taiwan Semiconductor Manufacturing (TSM) has committed $10 billion to capital spending as it ramps up 16-nm (nanometer) technology.
In the next part of the series, we'll evaluate Intel's fiscal 2016 guidance.