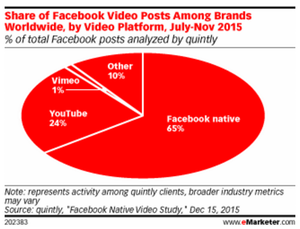 Facebook Video Ads Communicate Even If They're Running Silent
By Parker Thomas

Updated
Online videos for ad promotion
Online videos have become a preferred media for brand promotion. Many brands prefer the Facebook platform to post videos because its users are diversified demographically and geographically compared to other social media platforms such as Twitter (TWTR) and Google Plus (GOOG).
Facebook has introduced AutoPlay video in which videos play automatically when a user scrolls down the page. But in December 2015, the company set the audio to mute by default. Viewers have the option to unmute the audio, which has reduced user annoyance.
Article continues below advertisement
Auto-captioning tool
Graham Mudd, Facebook's director of ad product marketing, said about 40% of video ads fail to deliver the message to viewers if they're running on silent. So Facebook introduced an auto-captioning tool for advertisers. Earlier, advertisers needed to embed their own caption to the videos or upload the external file. But now, the tool converts the audio into the caption. Facebook says the captioned videos will increase view time by an average of 12%, which in turn will bring more advertisers on board.
According to eMarketer, between July and November 2015, "Almost two-thirds (65%) of brand video posts to Facebook were Facebook native," whereas "24% of video posts to the social network were links to YouTube."
Amazon's (AMZN) Twitch and Vevo constitute 10% of total video posts linked to Facebook. According to a study conducted by Locowise, 96.4% of all videos posted on Facebook were Facebook native.
Facebook constitutes 1.3% of the SPDR S&P 500 ETF (SPY).