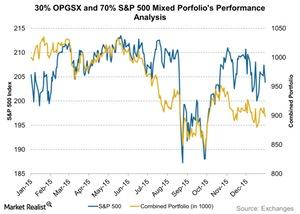 Exposure to OPGSX, the Precious Metal Fund: Good or Bad?
By Ivan Kading

Nov. 20 2020, Updated 11:46 a.m. ET
Underperformer
Gold and other precious metal–related funds serve as a potential hedge against market ups and downs. The Oppenheimer Gold & Special Minerals Fund – Class A (OPGSX) seeks capital appreciation through exposure to gold-related stocks. The fund strategy involves investing directly in precious metals and their related companies. Due to the current economic downtrend of the precious metals and mining sector, both OPGSX and its benchmark have underperformed the S&P 500.
Article continues below advertisement
 Negative returns
The graph above compares the 2015 return performance of a combined portfolio of 30% of SGGDX and 70% of the S&P 500 (VFINX). This shows the fund's effect on the performance of the index. The inclusion of OPGSX affected the return performance of the combined portfolio. The combined portfolio's 2015 return comes out to be -25.5%, which was worse than the S&P 500's return of -0.7%. The fund's top holdings include stocks such as Tahoe Resources (TAHO), Franco-Nevada (FNV), Goldcorp (GG), and Randgold Resources (GOLD).
Conclusion
Though it only takes a long position in gold and gold-related securities, the Oppenheimer Gold & Special Minerals Fund – Class A (OPGSX) it is an alternative mutual fund, as it provides investors a route to investment other than exposure to equity or debt. The fund may be used for reducing the overall risk of a portfolio through diversification. Alternative mutual fund strategies also involve taking short positions and the usage of popular global macro, long-short, market neutral, or merger arbitrage hedge fund strategies. The TFS Market Neutral Fund (TFSMX) is an alternative fund that makes use of the market neutral strategy to achieve its investment goal. A more detailed study is given in our series on A Must-Read Structural Analysis of Alternative Mutual Fund TFSMX.