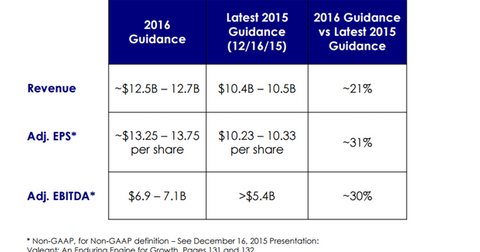 Expectations for Valeant Pharmaceuticals in 2016
By Jillian Dabney

Updated
Valeant Pharmaceuticals: Outlook for 2016
Valeant Pharmaceuticals (VRX) expects revenues for 2016 to be in the range of $12.5–$12.7 billion, up by ~21%.
The table above presents Valeant Pharmaceuticals' revenue, EPS (earnings per share), and EBITDA (earnings before interest, tax, depreciation, and amortization) guidance for 2016.
Article continues below advertisement
Valeant's business segments
Valeant operates in dermatology, ophthalmology, gastrointestinal, oncology, neurology, women's health, and dentistry, as well as emerging markets.
The company's dermatology portfolio includes Jublia, Solodyn, Zyclara, Carac, Luzu, and Onexton. This segment has grown by a CAGR (compound annual growth rate) of ~5%. During 2014, the company received approval for Jublia, Onexton, RAM .08, and Luzu. Its ophthalmology portfolio includes Soothe, Prolsensa ophthalmic solution, and Lotemax ophthalmic gel, to name a few.
In January 2016, the company launched its Valeant Access Program in partnership with Walgreens. This program would enable Valeant to record the rise in volume after its separation from Philidor.
Following the Salix Pharmaceuticals acquisition, Valeant gained access to its gastrointestinal products such as Xifaxan, Apriso, Uceris, and Cycloset.
The above graph shows the forecast revenue distribution across Valeant's various segments. As you can see, the following three business segments account for 20% each of Valeant's forecast revenues:
U.S. Gastrointestinal
Emerging Markets
U.S. Oncology, Dentistry, Women's Health, Neuro, and Other
These segments reflect the diversity of the business.
Xifaxan and Jublia are Valeant's major revenue contributors. Jublia competes with Anacor Pharmaceuticals' (ANAC) Kerydin and Sanofi's (SNY) Penlac. Xifaxan competes with Allergan's (AGN) Viberzi.
A company's stock price is sensitive to economic-, industry- or business-specific news. To diversify the risk of investing directly in the equity of Valeant Pharmaceuticals, investors can look for options such as the Vanguard FTSE All-World ex-US ETF (VEU). VEU holds 0.1% of its total holdings in Valeant Pharmaceuticals.