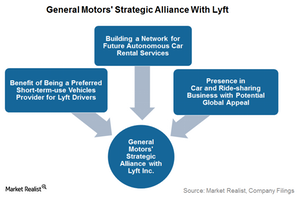 What to Expect from GM's Strategic Alliance with Lyft in 2016
By Jitendra Parashar

Updated
Strategic alliance with Lyft
In January 2016, General Motors (GM) announced that it would launch a car-sharing service in 1Q16 with the help of its strategic partner Lyft. During its 4Q15 earnings call, the company updated its plan and strategy related to its car-sharing business. In this article, we'll explore how important General Motors' strategic alliance could prove to be in 2016 and beyond.
Article continues below advertisement
Car- and ride-sharing business
General Motors (GM) entered the business of car-sharing and ride-sharing by purchasing a 9% equity ownership interest in Lyft Inc. for $500 million. During its 4Q15 earnings call, GM's management reiterated that it will combine its multiple car-sharing programs under a single brand called Maven. This service is intended to capture the growing demand of the mobility-on-demand market.
According to GM's chief executive officer, Mary Barra, one of the biggest challenges faced by Lyft is in attracting drivers who have the appropriate vehicles to participate as a Lyft driver. GM plans to benefit by being a preferred short-term-use vehicle provider for Lyft drivers.
This service will be based on a mobile application that allows users to share a ride or rent a car whenever and wherever they want. The company plans to expand its offerings to multiple cities and communities across the United States.
Global appeal and future plans
General Motors plans to begin producing its electric vehicle, Chevrolet Bolt, by the end of 2016. The company also expects to use this electric vehicle in its ride-sharing business. GM is optimistic about the growth and global appeal of its ride-sharing business. With this strategic partnership with Lyft and the launch of its Maven service, the company expects to become the market leader in the segment ahead of other US automakers. In the coming years, the company also plans to develop an integrated network of on-demand autonomous vehicle services in the U.S.
However, General Motors is not the first automaker (XLY) that has invested in the car-sharing business. Daimler (DDAIF) owns the largest car-sharing business under the brand name Car2go. Car2go currently provides its services in selected cities in North America and Europe.
Reportedly, General Motors' direct competitor Ford (F) is also working on the technology for autonomous cars. Among other automakers, Tesla (TSLA) has already been able to successfully demonstrate limited features of its autonomous driving technology.