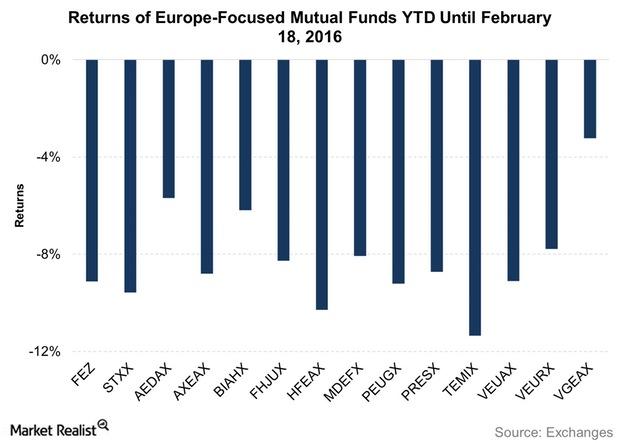 European Stocks and Mutual Funds: Don't Go Overboard
By David Ashworth

Nov. 20 2020, Updated 3:22 p.m. ET
Overall analysis
European stocks (VLKAY) (RENX) (RBS), like others across the world, have been whiplashed by volatility so far in 2016. This was one major reason we've also taken the performance of 2015 into consideration, as analyzing negative Sharpe and information ratios can be misleading. Apart from looking at the performance of 12 Europe-focused mutual funds, we also compared their point-to-point return performance with two ETFs, namely the ALPS STOXX Europe 600 ETF (STXX) and the SPDR EURO STOXX 50 ETF (FEZ). This was done to put the performance of actively managed mutual funds into perspective.
Article continues below advertisement
For 2015, all but one fund (VEURX) were able to outperform the STXX. However, there were three funds (HFEAX) (TEMIX) (VEURX) that underperformed the STXX in the one-year period ended February 16. We chose the STOXX Europe 600 Index as the benchmark throughout this series in order to maintain parity and give you an idea about the fund's performance given this broad index.
We also showed you how point-to-point returns do not indicate a fund's performance fully and how volatility can drag on or help the risk-adjusted performance of the fund. The graph above shows you how astute and active management can make a difference to returns in regards to passive products.
Buy Europe, but don't go overboard
Overenthusiasm is counterproductive, especially in financial markets. The hopes from European stocks that we talked about in the first article of this series were driven primarily because of two lines of thinking:
if US stocks are fully valued, there's little to turn to, so go for European equities
stimulus measures will keep European equities upbeat
You should remember and apply the basic principal of mutual fund investing: go bottom-up. This means to give more emphasis to stock selection rather than industry or country selection. Doing this well will help you navigate tough times better than buying stocks because of the aforementioned reasons.
Macroeconomically, Europe is not in the best shape. More stimulus may boost stocks, but it also means that the economy needs more support than envisioned earlier, therefore indicating a weaker state. The OECD (Organisation for Economic Co-operation and Development), in its interim economic growth projections released on February 18, estimated that the Eurozone economy will grow by 1.4% in 2016 and by 1.7% in 2017, down by 0.4% and 0.2%, respectively, from its November 2015 estimates.
The macroeconomy and financial markets are separate entities. Sometimes, a wide-ranging macroeconomic phenomenon, such as slowing demand, can have large implications for financial markets as well. Our top-down analysis on funds can be found on our Mutual Funds page.