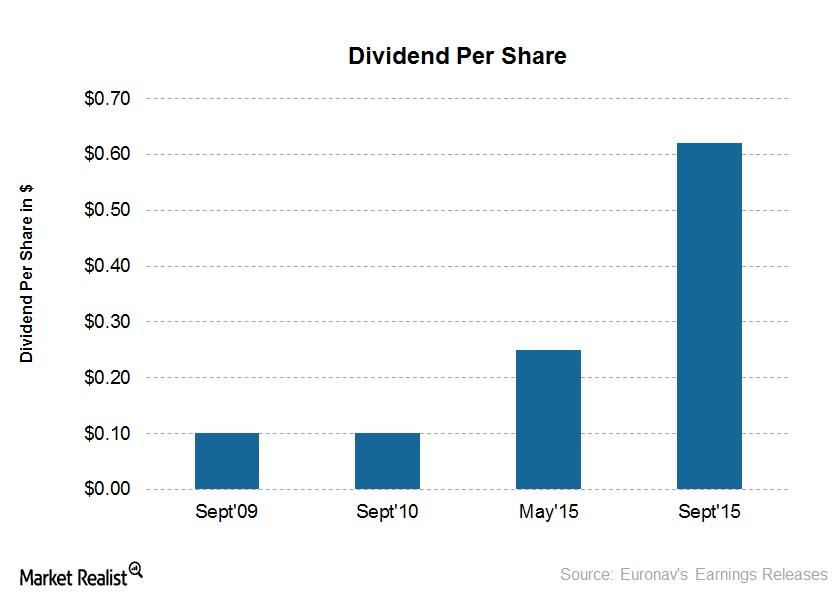 Euronav's Cash Return Policies to Shareholders
By Sue Goodridge

Nov. 20 2020, Updated 4:53 p.m. ET
Euronav's cash flow
Euronav's (EURN) operating cash flow in 4Q15 was $132 million, compared to $134 million in 3Q15. Its 2015 operating cash flow stood at $450 million, compared to the $15 million it recorded in 2014. In the last quarter of 2015, the company shelled out more cash toward year-end bonuses. The company returns its higher cash flow to investors through dividends and share buybacks.
Article continues below advertisement
Dividends
In September 2015, Euronav distributed an interim dividend of $0.62 per share. Euronav has stated that it remains committed to distributing 80% of its net income this way. The final dividend will be announced in March 2016, and Euronav has recently sold its older tonnage and recorded a gain on its sale. But the company has stated that these sales proceeds will be used to renew its fleet and thus won't be available for distribution of dividends.
Wall Street analysts forecast that Euronav's 2016 dividend will be $1.52 per share. Other companies in the industry who pay dividends include Nordic American Tanker (NAT), Frontline (FRO), Teekay Tankers (TNK), DHT Holdings (DHT), and Tsakos Energy Navigation (TNP).
Share buybacks
Euronav bought back 500,000 shares at an average cost of about $10.65 per share. The company has stated that it may continue to buy back shares opportunistically, as share buybacks reduce the amount of outstanding shares in the market, and buybacks generally improve financial ratios.
Investors interested in broad exposure to industrials can invest in the SPDR Dow Jones Industrial Average ETF (DIA).