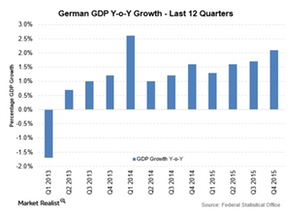 Germany's GDP Meets Consensus, EWG Trades Lower
European markets trade lower
Critical European indices were trading in negative territory on February 23, 2016. The DAX and France's CAC 40 traded lower by 1.5% and 1.3%, respectively. The United Kingdom's FTSE 100 fell by 1.2%. The negative sentiment was fueled by falling crude prices globally. Crude oil prices fell by more than 3%. There weren't any upside surprises in economic indicators. Investors also remained cautious as markets discounted. An increased risk of a Brexit could have a negative impact on the Eurozone. Trade relations get impacted between member nations and the United Kingdom.
Article continues below advertisement
Euro falls even though Germany's GDP rose
The euro fell against the US dollar on February 23, 2016. Investors were concerned about the impact of the British referendum on its membership with the EU (European Union). Germany's economy grew at an annual pace of 2.1% in 4Q15—in line with estimated forecasts and above growth of 1.8% in the previous quarter. On a quarterly basis, the GDP (gross domestic product) grew by 0.3% in the fourth quarter—in line with expectations and the previous quarter's growth. The GDP growth was led by an increase in domestic demand and government spending. ECB (European Central Bank) President Mario Draghi increased the monetary stimulus in order to rescue the Eurozone economy from deflationary pressures. It will also boost economic activity.
IFO Business Climate fell in February
The German IFO Business Climate released at a lower level of 105.7 for February—compared to January's reading of 107.3. It was below estimated forecasts of 106.7. The IFO expectations for February released at 98.8—compared to 102.3 in January. On the other hand, IFO Current Conditions increased in February to 112.9. This was marginally higher than January's reading of 112.5. It was higher than the expected levels of 112.0. Slowing economic growth and banks' concerns about negative deposit rates kept the business climate low for February.
Relative value of US Macro ETFs against German exposure set to continue
The iShares MSCI Germany ETF (EWG) was trading 1.7% lower on February 23, 2016, at 12:30 PM EST. It continues to trade at session lows. The DAX has been the worst performer among developed economies this year. This is a negative sign for the EU because it depends on German growth. During the strengthening in global equity markets, EWG hasn't performed as well as SPY. This relative value should continue. The iShares MSCI Eurozone ETF (EZU) was trading 1.4% lower on the day. The iShares Currency Hedged MSCI Eurozone ETF (HEZU) fell by 1.5%.
Looking at equity ETFs, the WisdomTree Europe Hedged Equity ETF (HEDJ) fell by 1.2%. The SPDR Euro Stoxx 50 ETF (FEZ) fell by 1.7%.