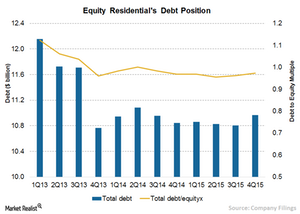 EQR Sees a Marginal Fall in Borrowing Costs in 4Q15
Fundraising activities
In 2015, Equity Residential (EQR) was active in both the unsecured and secured credit markets to lower its effective borrowing costs and extend its maturity profile.
Article continues below advertisement
Lower borrowing cost
EQR's total debt rose from $10.8 billion at the end of 4Q14 to $11 billion at the end of 4Q15. The company's total debt to total assets was 38.5% at the end of 4Q15, compared to 39.2% at the end of 4Q14. Its fixed-rate debt made up 85.9% of its total debt, while its floating-rate debt made up the remaining 14.1%.
The weighted average interest rate on this debt fell marginally to 4.51% at the end of 4Q15, compared to 4.52% at the end of 4Q14. The debt's weighted average years to maturity remained constant at 7.6 years for both periods.
The iShares US Real Estate ETF (IYR) invests 3.4% of its portfolio in Equity Residential.
Debt extinguishments
Equity Residential has retired $1.7 billion in debt principal prior to maturity. In addition, the company intends to retire around $271.2 million in debt at par at maturity in March 2016. This will be in connection with its Starwood sale and its other anticipated 2016 asset sales. The company has incurred prepayment penalties amounting to $112.4 million associated with these debt extinguishments.
AvalonBay Communities (AVB) had $6.5 billion in debt as of December 2015, while Camden Property Trust (CPT) had $2.7 billion in debt. Peers Essex Property Trust (ESS) and Apartment and Investment Management Company (AIV) will be releasing their 4Q15 earnings in the coming days.
Continue to the next part of the series for a discussion on key takeaways from EQR's conference call.