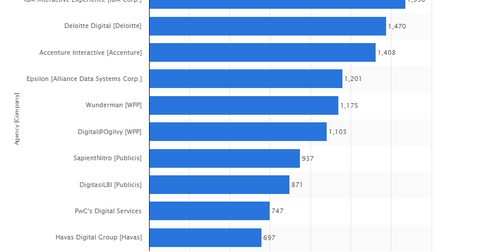 Ecx.io is IBM's Latest Purchase in the Creative Services Space
By Anne Shields

Updated
Ecx.io is IBM's latest buyout in 2016
In our recent IBM series, we discussed IBM's (IBM) growth strategy in 2015, which continues to revolve around acquisitions. We are a little over one month into 2016 and IBM has already announced five acquisitions. The most recent addition to the company's portfolio is Ecx.io, a German (EWG) design and creative services agency. Ecx.io is expected to become a part of IBM's design division, Interactive Experience (or iX) unit.
Article continues below advertisement
Ecx.io marks the third acquisition by IBM within a span of one week to augment its iX unit. Aperto and Resource/Ammirati are the other two acquisitions that IBM announced in 2016 to boost its iX unit. After Aperto, Ecx.io is IBM's second acquisition in Europe (EZU). As is typically the case with IBM's acquisitions, financial details of the deal were not disclosed.

Ecx.io could boost IBM's iX unit
Later in this series, we will discuss the Aperto and Resource/Ammirati buyouts and how they could complement IBM's existing iX unit. With respect to IBM's acquisition of Ecx.io acquisition, Paul Papas, the global leader for IBM Interactive Experience, stated, "Together with ecx.io's distinct expertise, we're raising the bar for experience-led, digital marketing and commerce."
In mid-2015, IBM stated that 2015 marked the second consecutive year when Advertising Age labeled "IBM Interactive Experience as the largest digital agency network worldwide in its Agency Report for 2015." Adobe (ADBE), Sitecore, and SAP hybris (SAP) have given IBM iX the responsibility of providing their digital technologies.
According to Statista and as the above chart shows, IBM had $1.59 billion in revenues in 2014 and was the top digital agency network that year. IBM was followed by Deloitte Digital.
Since early 2014, IBM iX employees' base has doubled to reach more than 10,000 employees, along with 1,100 designers in areas ranging from e-commerce to mobile development in the creative design space. IBM states that iX amalgamates creative design with technology and mobile expertise to enable enterprise transformation.