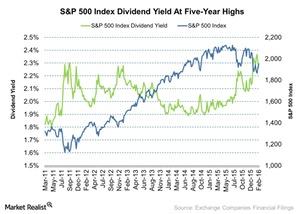 Dividend Yields on the S&P 500 Index: Value Investor Outlook
By Sarah Sands

Updated
S&P 500 dividend yields at five years high
The dividend yield of the S&P 500 index (QQQ) (VOO) is 2.3% as of February 25, 2016. The ten-year Treasury bond yield is about 1.7%. The yield of the S&P 500 Index is now at a five-year high since 2011. The graph below shows the dividend yield compared to the market movement.
Article continues below advertisement
Why dividend yields are important for investors
The dividend yield is an important criterion for value investments. It specifies the index's relative worth compared to its present cash flow regarding dividends. The dividend yield also gauges the oversold and overbought zones for equity investments. For example, when the dividend yield of the S&P 500 index is higher than the historical average, markets enter oversold territory. If yields fall to historic lows, the market may enter a correction. Yield directly measures returns on investment based on the present dividend.
We can extend this study to energy stocks that have fallen because of the crude oil downturn in recent years. Energy stocks ConocoPhillips (COP), Exxon (XOM), and Chevron (CVX) have dividend yields of  8.9%, 3.5%, and 5.0%, respectively. During sub-prime crisis, dividend yields for the S&P 500 index rose to 4.1%. The historical high is about 6.4% from the market turmoil in the early '80s.
To learn more, read Then and Now: How Valuations Affect Market Sentiment.