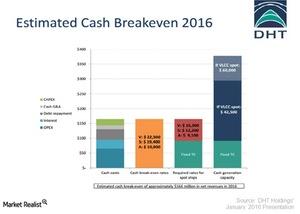 DHT Enjoys a Comfortable Profit on High Tanker Rates
By Sue Goodridge

Updated
DHT's chartering
DHT Holdings (DHT) operates its vessels in spot as well as time charter markets. Of the company's 19 vessels, it owns nine vessels on fixed-rate time charters, and ten vessels have spot market exposure.
Article continues below advertisement
Spot versus time charter
Spot contracts are for a short duration or a voyage from one port to another. Crude (DBO) tanker companies charge the spot rate prevailing in the market. By contrast, under time charter contracts, vessels are hired for a specific period that can last up to five or six years at a pre-decided daily rate.
Generally, depending on market conditions, companies such as Teekay Tankers (TNK), Frontline (FRO), DHT Holdings, and Tsakos Energy Management (TNP) change their fleet employments from fixed to spot and from spot to fixed. Nordic American Tanker (NAT), however, employs all of its vessels in the spot market.
Time charter book
Currently, DHT Holdings has booked 37% of its available tanker days on a fixed-rate basis, and the company expects to generate about $102 million in revenue from these time charters. According to the company, 62% of its estimated cash costs for the year are covered.
For 2017, the company has fixed 16% of its capacity. This will cover approximately 29% of the company's estimated cash costs.
Article continues below advertisement
Cash break-even
In its fourth-quarter conference call, DHT threw light on its costs and break-even level. It's important to look at a company's cash break-even level, because it helps to gauge a company's level of profitability. In the above graph on the far left, we have expected costs. These include operating expenses, debt repayment, general and administrative expenses, maintenance expenses, and interest expenses. DHT's total cash cost according to the company is $163 million.
To cover these costs if the company's tankers are all in the spot market, the company needs to earn a minimum of $23,000 per day for VLCCs (very large crude carriers), $19,000 per day for Suezmax, and $11,000 per day for Aframax. However, as the company has already booked 37% of its capacity, VLCCs in the spot market will only need to earn $14,000 per day.
Currently, VLCC rates are in the range of $45,000–$55,000 per day. This is well above the required rate for the company. DHT seems to have a very comfortable cash break-even.
Investors who are interested in broad exposure to industrials can invest in the SPDR Dow Jones Industrial Average ETF (DIA).
In the next article, we'll explore DHT's dividends.