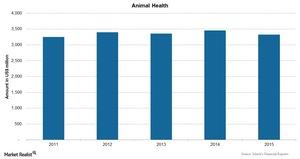 Why the Decline in Merck & Co.'s Animal Health Revenues?
By Mike Benson

Updated
Animal Health segment
Merck & Co.'s (MRK) Animal Health segment operates in more than 140 countries worldwide. Global sales reported for 2015 were ~$3.3 billion, a 4% decrease compared to 2014. The 2015 revenues had a 9% growth, which was more than offset by the 13% negative impact of foreign exchange.
The above graph shows annual revenues for the Animal Health segment. In terms of percentage of total revenues, the contribution of the Animal Health segment increased to 8.4% of total revenues in 2015 compared to 8.3% in 2014. Sales in US markets improved by 12% during 2015 to $880 million. Sales outside US markets declined by 8% to $2.4 billion due to the negative impact of foreign exchange.
Article continues below advertisement
Revenue drivers from Animal Health
The Animal Health segment revenues have improved due to increased sales in companion animal products. These products are used by small-animal veterinarians and pet owners to provide a healthier and longer life for their pets. Bravecto, one of the key products from this segment, is a chewable tablet that kills fleas and ticks in dogs for up to 12 weeks and has shown a strong growth over the last year. Other products include Activyl, eye and ear products, Nobivac, Panacur, Scalibor, and the veterinary insulin Vetsulin.
Other products that drive the performance of the Animal Health segment includes aquaculture products and swine products. Aquaculture products maximize fish survival, growth, and production efficiency for major types of farmed fishes including salmon, tilapia, trout, and other marine species. Some of the aquaculture products are Aquaflor, Norvax Minova 6, Slice, and Aquavac.
The swine products help produce safe and high-quality pork. Some of the swine products include Circumvent PCV, Porcilis PRRS, Regumate, Respig, and Zuprevo. These products help pork producers improve the health of pigs for better quality pork.
Bravetco competes with Nexgard, a product from Merial, a Sanofi (SNY) company. Zoetis (ZTS), a part of Pfizer (PFE), is the largest animal health company with around 20% market share.
Elanco, an Eli Lilly (LLY) subsidiary, competes closely with Merck for its companion animal products as well as food animal products, including swine and aquaculture. Elanco also acquired Novartis's (NVS) animal health division in January 2015 to strengthen its position in animal health.
To divest risk, investors can consider the Health Care Select Sector SPDR ETF (XLV), which holds 5.6% of its total assets in Merck.