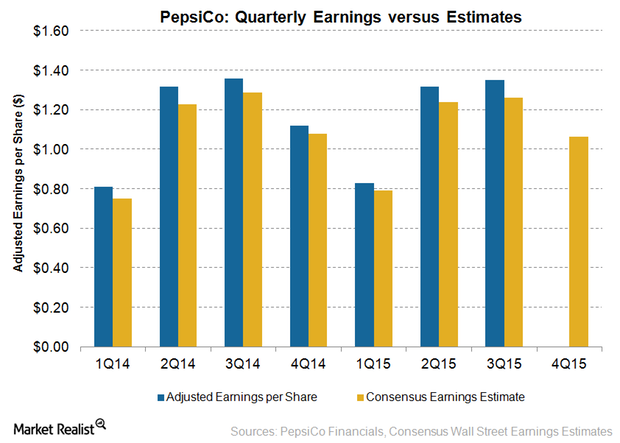 Currency Headwinds Might Pull PepsiCo's 4Q15 Earnings Down
4Q15 results
PepsiCo (PEP) is expected to announce its fourth quarter results on February 11, 2016. The consensus Wall Street analysts' adjusted EPS (earnings per share) estimate for 4Q15 ended December 26, 2015, is $1.06. This consensus estimate reflects an expected downside of 5.1% compared to the adjusted EPS of $1.12 in 4Q14. The adjusted EPS numbers exclude the impact of extraordinary items on the bottom line.
Article continues below advertisement
A recap of prior results
PepsiCo's earnings have exceeded analysts' estimates in each of the first three quarters of fiscal 2015. In 3Q15, PepsiCo's adjusted EPS came in at $1.35, way ahead of the consensus analysts' estimate of $1.26. However, the company's 3Q15 adjusted earnings declined by 0.7% on a year-over-year basis, primarily due to the impact of currency headwinds.
According to the company, excluding the impact of currency fluctuations, its core constant currency EPS increased by 14% in 3Q15. The iShares Russell 1000 Growth ETF (IWF) has 1.5% exposure to PepsiCo.
Coca-Cola (KO) reported a 3.8% decline in its adjusted EPS in 3Q15, as currency fluctuations continued to drag its results down. Dr Pepper Snapple (DPS) reported a 10.2% rise in its adjusted EPS, due to higher sales and improved productivity. Monster Beverage's (MNST) adjusted EPS increased by 16.7% in 3Q15, driven by strong sales partially offset by unfavorable currency movements.
PepsiCo's rival in snack food category Mondelēz International (MDLZ) experienced a 16% decline in 3Q15 adjusted EPS due to currency headwinds. Mondelēz has significant international exposure. In 3Q15, Mondelēz generated about 74% of its net sales from outside North America.
PepsiCo's 4Q15 earnings expectation
PepsiCo expects its 4Q15 core EPS growth to be adversely impacted by 8% of currency fluctuations. The full-year fiscal 2015 core EPS is expected to be negatively impacted by 11% of foreign currency translation.
Aside from currency fluctuations, PepsiCo also expects its 4Q15 bottom line to be negatively impacted by higher net interest expense. The company expects its higher net interest expense in 4Q15 due to higher interest rates and rising debt balances.