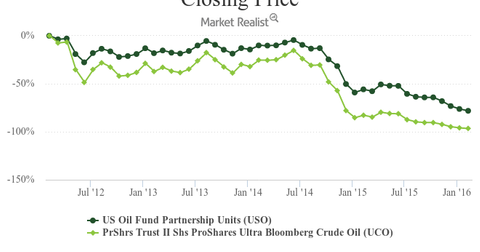 Crude Oil Market: Saudi Arabia Is Stubborn, Dictates Venezuela
By Gordon Kristopher

Updated
Crude oil prices fell
NYMEX-traded West Texas Intermediate crude oil futures contracts for March delivery fell by 3.9% and closed at $29.69 per barrel on Monday, February 8, 2016. ICE-traded Brent crude oil futures fell by 0.53% and closed at $33.88 per barrel on the same day. Oil prices fell due to the consensus of the rising US crude oil inventory. The prices also fell due to fading ties of OPEC (Organization of the Petroleum Exporting Countries) and non-OPEC countries for a collective production cut. Oil tracking ETFs like the United States Oil Fund (USO) and the ProShares Ultra Bloomberg Crude Oil ETF (UCO) moved in the direction of crude oil prices. They fell by 3% and 6.3%, respectively, in yesterday's trade. The SPDR S&P 500 ETF (SPY) also fell in the direction of oil prices.
[marketrealist-chart id=1038287]
Article continues below advertisement
Saudi Arabia and Venezuela's meeting 
On February 7, 2016, Saudi Arabia and Venezuela met to discuss the collective production cut between OPEC and non-OPEC nations. All eyes were on Saudi Arabia's oil minister Ali al-Naimi and his Venezuelan counterpart Eulogio Del Pino. However, the meeting didn't show any concrete evidence of a favorable outcome for an oil production cut. Eulogio Del Pino is touring OPEC and non-OPEC oil producing giants to initiate a collective production cut for the oil price ceiling. Venezuela wants to stabilize its dwindling economy. Its economy depends on oil exports. The Venezuelan government's sources reported that oil revenue fell by 70% in 2015. The economy fell by 5%, respectively, in 2015. Saudi Arabia has been stubborn. It's dictating Venezuela. Saudi Arabia thinks that the oil production cut and oil price ceiling aren't effective in the current oil market conditions. The only option is a tussle for oil market share. The US shale boom could snatch OPEC's market share in the future.
The latest estimates from Barclays suggested that oil demand from the world's largest oil consumers like the US and China could slow down. Read more about US production in Part 6 of this series. We'll also discuss how China's production and consumption could impact the oil market in Part 7. 
Volatility picture 
Oil prices have fallen by nearly 20% in 2016 due to the wide gap between supply and demand. Historically low oil prices led to decreased spending on mega oil and gas exploration projects. Companies like Concho Resources (CXO), Whiting Petroleum (WLL), WPX Energy (WPX), and PDC Energy (PDCE) slashed the capital expenditure, according to sources from data intelligence firm IHS (IHS) in order to sustain themselves in the depressed oil and gas market.
US inventory
In the next part of this series, we'll discuss how the US crude oil inventory is weighing on the global oil market. In Part 3 of this series, we'll  discuss how the record inventory is leading to a historic surge in the crude oil storage cost.