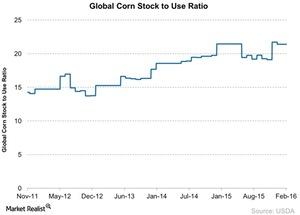 Corn Inventory Reaches High of 21.3%, Affects Fertilizers
Why look at stock-to-use ratios?
Food stockpiles help countries maintain food prices in unanticipated events such as a natural disaster. The global corn stock-to-use ratio tells us the inventory level for corn across the globe and offers insight into the near-term future of fertilizer companies such as the Potash Corporation (POT), CF Industries (CF), Intrepid Potash (IPI), and the Mosaic Company (MOS).
Article continues below advertisement
Stock-to-use ratio at highs
Corn is usually a bellwether crop for the fertilizer industry. The global corn stock-to-use ratio as of February 25 stands at 25.3%, which is at a historical high compared to the past five year's median stock-to-use ratio of 18.5%.
A high ratio is not particularly positive for fertilizer companies because it essentially indicates that that the replacement of the stockpile will not be to the same extent during the times of low inventory levels. Eventually, the demand weakens and corn prices face downward pressures and farmers curtail their planting acres. As a result of a high stock-to-use ratio, fertilizer demand will also see a slowdown in the near term.
Other challenges
Nitrogen fertilizer companies are also faced with the challenge of increasing natural gas cost. In addition to the anticipation of decline in fertilizer demand (which means lower prices for fertilizers), this can squeeze margins. (To learn more about nitrogen prices and outlook, read Fertilizer Gone Wild? Your February Update and 2016 Outlook.) A high stock-to-use ratio is also negative for potash and phosphate fertilizers. To diversify such risks, you may look into the Materials Select Sector SPDR (XLB), which invests 12% of its portfolio in agricultural chemicals.
Now let's look at yet another indicator for corn: global yields per hectare.