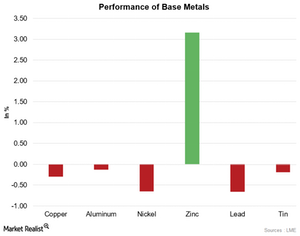 Why Did Copper, Aluminum, and Nickel Fall?
Copper stayed below $4,600
LME 3M Copper tried and failed to close above the price level of $4,600 per metric tonne on February 18. Even though oil prices surged, copper didn't benefit from it because of fears due to growth in China. On February 18, copper in the LME (London Metal Exchange) fell by 0.29% and closed the day at $4,575.5 per metric tonne. The price levels of $4,400 per metric tonne and $4,600 per metric tonne are the nearest prominent support and resistance levels for copper in the LME. In COMEX, copper fell by 0.12% on February 18. Aluminum in the LME declined for the second consecutive trading day. On February 18, aluminum fell by 0.13% and ended the day at $1,517 per metric tonne.
Article continues below advertisement
RUSAL predicts aluminum deficit
RUSAL is one of the largest aluminum producers in the world. It predicted the aluminum market deficit in 2016. According to RUSAL's CEO Vladislav Soloviev, except for China, in general, aluminum production growth has been halted globally. He thinks that if China decides to reduce the aluminum production, there could be an aluminum deficiency in 2016. He also commented on the demand for aluminum. He said that he expects the demand growth to be 6% in 2016. The demand growth for aluminum in 2015 was 5.6%.
Nickel needs suppliers' support to rebound
LME 3M Nickel gained for four consecutive trading days and declined on February 18. According to Citi's estimates, only a few small-scale nickel producers suspended their operations in 2015. This comes under a total of 15,000 tonnes—less than 1% of the total nickel supply. Considering the supply situation and very little action from suppliers, nickel prices are expected to fall much lower. After declining for four consecutive trading days, LME 3M Zinc gained on February 18. Zinc gained 3.2% to $1,697 per metric tonne. It was the only gainer in base metals.
This week, lead inventory levels rose around 13% and pulled the prices lower. On February 18, lead fell by 0.66%. Tin fell by 0.19% to $15,625 per metric tonne. The same weakness was seen in base metal miners' price action. Freeport-McMoRan (FCX), Glencore (GLNCY), Alcoa (AA), and Rio Tinto (RIO) fell by 0.14%, 1.8%, 4.7%, and 1.7% on February 18. The SPDR S&P Metals & Mining ETF (XME) fell 0.5% on February 18.