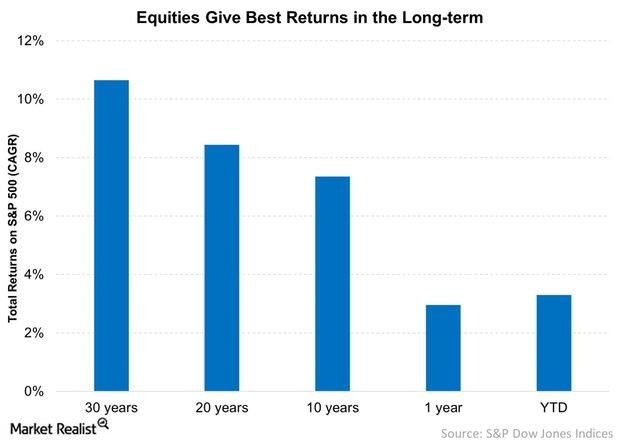 How You Can Avoid Common Investor Mistakes
By OppenheimerFunds

Feb. 11 2016, Published 11:38 a.m. ET
Q. What are some of the common mistakes you see investors make?
A. George: Many investors make a mistake I call "selling the wiggle," which means focusing on short-term price movements rather than long-term value creation. They might react to a temporary decline in the price of a stock they like by selling it, when in fact there might be a buying opportunity. When faced with a price decline of a stock you favor, you should ask yourself: "Is the company's advantage intact and does it remain durable? Has anything really changed other than the price?" If the answer is "no," you might be faced with a buying opportunity. I invest in value-creating companies, and if I deem their value sustainable, there's a good chance I'll buy more of them when their stock price declines.
Article continues below advertisement
Q. How do you navigate periods of turbulence and bad performance?
A. Rajeev: You've got to question the premise of what you do all the time, engage in self-reflection, and be honest with yourself. We are comfortable with evolving circumstances and uncertainty, and we're prepared to challenge our views and assumptions when realities change.
Q. Is it possible to produce outsized returns without taking risk?
A. Frank: Billionaire financier George Soros was asked a similar question and replied, "Outperforming the market with low volatility on a consistent basis is an impossibility. I outperformed the market for 30-odd years, but not with low volatility." I like to say, "Imagine a different future." The future is inherently risky because there is uncertainty. Investors often do not know how to price uncertainty, so you can produce substantial, long-term returns if your investment thesis proves correct and you have the patience to hold your positions during periods of volatility. Like George was saying, if price is the only thing that changed in the short term, don't sell the wiggle.
Market Realist – Common investor mistakes
Exhibit 4 shows the CAGR (compound annual growth rate) of the S&P 500 index over various periods. It's clear that a longer horizon not only leads to higher returns but also gives you a better average return. Over the last 30 years, the S&P 500 has returned 10.6% on a CAGR basis. This is higher than the 20- and ten-year periods, which have yielded 8.4% and 7.4%, respectively.*
Sometimes you may see great returns in relatively short periods—but those are one-offs. While we're not likely to see the kinds of returns we've seen in the past, long-term investing is still the way to go.
*Past performance does not guarantee future results.