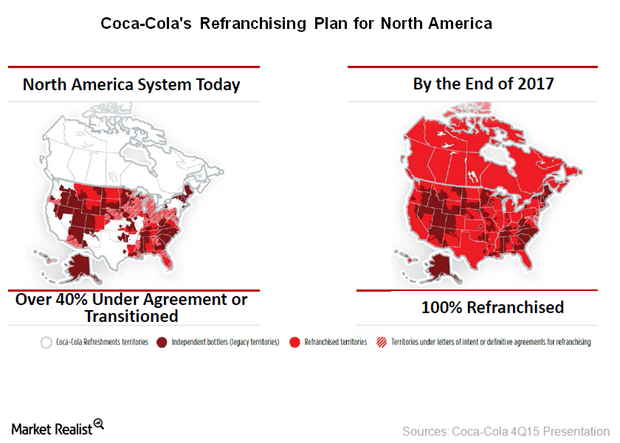 Why Coca-Cola Will Accelerate North America Refranchising
Refranchising plan accelerated
On February 9, Coca-Cola (KO) announced its 4Q15 results and also made an announcement about its plans to accelerate its refranchising initiative in North America. Coca-Cola disclosed that it plans to refranchise 100% of the company-owned North American bottling territories by the end of 2017 including all of the cold-fill production facilities. The company previously expected to complete the refranchising of its bottling operations by 2020.
Article continues below advertisement
Coca-Cola has been reducing its exposure to the low-margin, capital-intensive bottling operations in order to focus more on its concentrate business and the building of its brands. Coca-Cola and PepsiCo (PEP) have extensive bottling and distribution networks around the world. Smaller players like Dr Pepper Snapple (DPS) depend on the beverage giants for the distribution of some of their brands. Pursuant to the closure of a strategic deal with Monster Beverage (MNST), Coca-Cola is now the preferred global distribution partner for Monster.
Initiatives announced
So far, Coca-Cola has reached definitive agreements or signed letters of intent to refranchise territories accounting for over 40% of bottler-delivered distribution volume in the US. Some of the key refranchising initiatives announced by Coca-Cola include:
plans to sell the remainder of its company-owned cold-fill production facilities by the end of 2017
new letters of intent that cover territories in five states
Under the new letters of intent, Coca-Cola Bottling Co. Consolidated will assume additional territory in portions of Ohio and West Virginia, along with a production facility in Twinsburg, Ohio. Also, Coca-Cola Bottling Company of Roseburg will assume territory in the Pacific Northwest, primarily in Southern Oregon and a small portion of Northern California. ABARTA will assume territory in Pennsylvania. Coca-Cola constitutes 2.4% of the iShares Russell Top 200 Growth ETF (IWY).
Refranchising initiative in China
Coca-Cola also announced that it has entered into a non-binding letter of intent to refranchise company-owned bottling operations in China to existing partners China Foods Limited, part of COFCO Limited, and Swire Beverage Holdings Limited. This initiative adds to the company's recent global refranchising initiatives in Europe and Africa.
China is a key growth region for Coca-Cola and is the third-largest market by volume. Coca-Cola is currently investing $4 billion in the region to support its future growth.
We'll discuss Coca-Cola's revenue performance in 4Q15 in the next part of this series.