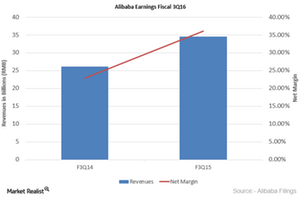 A Closer Look at Alibaba's Fiscal 3Q16 Operations
By Parker Thomas

Updated
Alibaba's operations in fiscal 3Q16
So far, we've looked at highlights of Alibaba's (BABA) earnings for fiscal 3Q16. We've also looked at revenue drivers, mobile penetration, and efforts to boost online sales in rural Chinese areas. In this article, we'll look at Alibaba's operations during fiscal 3Q16. In the rest of the series, we'll do an analysis and go over analyst recommendations.
Article continues below advertisement
Retail and international business
Despite the economic slowdown in China (FXI), Alibaba (BABA) generated revenues of 34.5 billion renminbi in fiscal 3Q16 compared to 26.2 billion renminbi in the same period last year. The majority of its revenues were driven by China's commerce retail business, which constituted 89.9% of the total revenues generated from its commerce business, both domestic and international. International commerce wholesale is primarily generated from Alibaba.com, which accounted for 68.6% of the total international commerce revenues.
Revenue cost margin is revenue cost divided by total revenues. For fiscal 3Q16, Alibaba's revenue cost margin came in at 31.7% compared to 28.7% in the same quarter last year. That's an increase of 3 percentage points.
Almost all the cost drivers have seen an average decline of 65 basis points on a relative basis compared to the same period last year. That means the income margin has increased. Income from operations came in at 12.4 billion renminbi in fiscal 3Q16 compared to 9.3 billion renminbi in fiscal 3Q15, an increase of 33.0% YoY (year-over-year).
Alibaba's GAAP (generally accepted accounting principles) diluted EPS (earnings per share) came in at 2.3 renminbi, or $0.76, in fiscal 3Q16. Peers Amazon (AMZN) and eBay (EBAY) stood at $1.0 and $0.39, respectively, on a GAAP basis.
Amazon constitutes 11.5% of the First Trust Dow Jones Internet ETF (FDN).