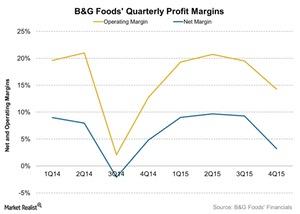 A Close Look at B&G Foods' Operating Margins in Fiscal 4Q15
Operating margin rose
B&G Foods (BGS) reported EBIT (earnings before interest and tax) of $59.2 million, an increase of $28.1 million compared to 4Q14. The operating margin for the quarter also rose to 14.2% compared to 12.7% in 4Q14. For the year, operating profit was $189 million, an increase of 53% compared to $123.4 million in fiscal 2014. Operating margin for 2015 was 17.8% compared to 13.6% in 2014.
Article continues below advertisement
EBITDA improved 29.2%
Adjusted EBITDA (earnings before income, tax, depreciation, and amortization) for fiscal 4Q15 rose 29.2% to $67.4 million compared to $52.1 million in the fourth quarter of 2014. It excludes the impact of the amortization of acquisition-related inventory step-up and loss on product recall. Not included in it are other acquisition-related expenses, distribution restructuring expenses, and the related loss on disposal of inventory. EBITDA margin for 4Q15 was 16.6% compared to 15.5% in 4Q14.
For fiscal 2015, adjusted EBITDA improved 12.2% to $217.8 million compared to $194.1 million in fiscal 2014. EBITDA margin was 20.8% compared to 16.93% in fiscal 2014. Fiscal 2015 EBITDA excluded the impact from the amortization of acquisition-related inventory step-up and also from the loss of product recall. It also didn't include non-cash impairment charges related to Rickland Orchards intangible assets and the related loss on disposal of inventory. Other acquisition-related expenses and the non-cash gain relating to an earn-out and distribution restructuring expenses were also not a part of fiscal 2015 EBITDA.
Article continues below advertisement
CEO's perspective on 4Q15 results
Robert C. Cantwell is B&G Foods' president and CEO (chief executive officer). He stated that "2015 was a year characterized by a return to our long history of solid, disciplined financial performance, the continuation of our long-standing acquisition preference for center of the store shelf-stable brands with our acquisition of Mama Mary's, and of course our transformational acquisition of the Green Giant brand. We are excited to enter the frozen food category and by the other possibilities that an iconic brand like Green Giant provides us, and we are truly inspired to reinvigorate Green Giant for today's consumer through innovation and enhanced marketing. Overall, I am extremely proud of what we accomplished in 2015 and look forward to another rewarding year in 2016 for our customers, our consumers and our shareholders."
Peers' margins
B&G Foods' competitors in the industry include Hormel Foods (HRL), Pinnacle Foods (PF), and Cal-Maine Foods (CALM). They reported operating margins of 15.6%, 15.6%, and 30.4%, respectively, for their last reported quarters. The PowerShares Dynamic Large Cap Growth (PWB) and the PowerShares Dynamic Food & Beverage (PBJ) invest 1.5% in HRL and 2.5% in CALM.