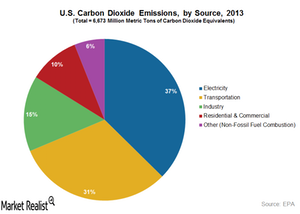 Clean Coal: The Future of the US Coal Mining Industry
By Sheldon Krieger

Aug. 18 2020, Updated 6:39 a.m. ET
What is it?
Coal has many impurities that are trapped inside its matrix during the coalification process. These impurities are released into the atmosphere as harmful greenhouse gases and ash during the combustion of coal. Clean coal aims to minimize the emission of harmful greenhouse gases with clean coal technologies.
Article continues below advertisement
Clean coal technologies
Clean coal technologies can be classified into the following four categories:
pre-combustion
combustion
post-combustion
conversion
Pre-combustion technology
Coal is crushed and impurities like sulphur and other inorganic components are removed by physical, chemical, or biological cleaning methods. These methods are often known as coal beneficiation methods. Sulphur in coal exists in both inorganic and organic forms. Crushing and washing coal can easily remove inorganic sulphur. Organic sulphur requires chemical treatment and not all of it can be removed from coal. Cleaning methods can remove up to 90% of sulphur content in coal.
Combustion technology
Fluidized-bed combustion is used to remove harmful greenhouse gases while burning coal inside the furnace. Oxy-fuel combustion is another clean coal technology that burns fuel in the presence of oxygen instead of air. As the nitrogen component of air is not involved, this process is effective in reducing NOx emissions.
According to the Environmental Protection Agency (or EPA), electricity generation is the major source of carbon dioxide emission in the United States. The oxy-fuel combustion process not only reduces the emission of harmful NOX but also helps in capturing carbon dioxide.
Major power producers working on various clean coal (KOL) technologies include Duke Energy (DUK), Southern Company (SO), NRG Energy (NRG), and American Electric Power Company (AEP).
In the next part of this series, we'll discuss trending clean coal technologies as a part of post-combustion and conversion-clean coal technologies.