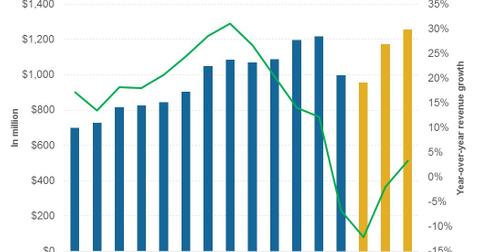 Chipotle's 4Q15 Revenues Take a Hit from Food Safety Issues
By Rajiv Nanjapla

Updated
Decline in 4Q15 revenues
With negative sentiments surrounding Chipotle Mexican Grill's (CMG) E. coli outbreak, customers are hesitant to visit Chipotle restaurants. This has led to a decline in traffic and same-store sales growth.
In October 2015, Chipotle closed 43 restaurants as a precautionary measure against E. coli. That and negative same-store sales growth led to a decline of Chipotle's revenue from $1.1 billion in 4Q14 to $997.5 million in 4Q15, a fall of 6.8%.
Article continues below advertisement
Mark Crumpacker, Chipotle's chief marketing and development officer, stated, "Our most current research indicates that 63% of Chipotle customers and 60% of fast casual diners in general are aware of the food-borne illness issues at Chipotle. Of those who are our customers and who are also aware of the issues, right around 60% have indicated that it would cause them to visit less."
The impact of closing restaurants
Brick-and-mortar businesses such as restaurants lose revenue when they close locations, even temporarily. Average restaurant sales for Chipotle were $2.3 million for the trailing 12 months, which translates to $7,000 per day. By closing 43 restaurants from November 1 to November 10, the company lost about $3 million in revenue.
Investors who want to invest in Chipotle can mitigate risk by investing in the SPDR S&P 500 ETF (SPY). SPY invests in restaurant companies such as McDonald's (MCD), Starbucks (SBUX), and Yum! Brands (YUM).
Outlook for 2016
Chipotle's January same-store sales growth was -36%. Analysts thus lowered their estimates for 1Q16 revenue to around $918 million from their earlier estimate of $1 billion. They also revised their 2Q16 revenue estimate from $1.2 billion to $1.15 billion, and 3Q16 revenue from $1.26 billion to $1.23 billion. There was not much change in 4Q16 revenues.
Chipotle's revenue is driven by same-store sales growth and unit growth. In our next article, we'll discuss Chipotle's same-store sales growth.