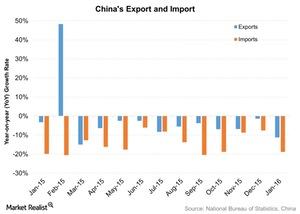 Why China's Exports and Imports Fell Sharply in January 2016
By Lynn Noah

Updated
Exports and imports
According to the General Administration of Customs, China's exports (in US dollar terms) fell sharply by 11.2% year-over-year (or YoY) in January as compared to a decline of 1.4% in December. Imports fell by 18.8% YoY as compared to a 7.6% drop in December. Some analysts believe that the unexpected drop in foreign trade was mainly due to a change in the timing of the Lunar New Year. As a result, Chinese firms were busy wrapping up their business at the end of the January to celebrate the New Year. Thus, China's trade surplus rose sharply due to lower commodity prices and sluggish demand. China's trade surplus stood at $63.3 billion in January, up from $60.1 billion in December.
Article continues below advertisement
The January numbers clearly indicate the slump in domestic and foreign demand. China's exports to South Korea and Taiwan have fallen sharply. This fall proves that the weakening of the yuan by almost 6% against the US dollar since August 2015 by the People's Bank of China (or PBoC) proved to be of little help in boosting exports.
Meanwhile, imports have taken a hit due to low domestic demand on account of a slowing economy. Plus, China is a major importer of crude oil, copper, and iron ore. The prices of these commodities have fallen sharply, and most factories are already sitting on a large stock of commodities due to lower demand.
Reforms
Market participants are expecting further stimulus measures from Chinese authorities. It is widely expected that China's central bank will need to resort to further monetary stimulus in the form of more rate cuts to support the slowing economy as well as to lessen the capital outflow from the country and weaken the yuan further to boost exports.
Impact on mutual funds
Tencent Holdings (TCEHY) is included in the top ten holdings list of all four mutual funds, which includes the Clough China Fund–Class A (CHNAX), the Guinness Atkinson China and Hong Kong Fund (ICHKX), the Eaton Vance Greater China Growth Fund–Class A (EVCGX), and the John Hancock Greater China Opportunities Fund–Class A (JCOAX). Tencent Holdings has a great deal of export exposure. The slowing down of exports directly impacts the company's revenues and margins.
Similarly, Chinese American depository receipts (or ADRs) such as China Mobile (CHL), CNOOC (CEO), PetroChina Company Limited (PTR), and China Petroleum & Chemical (SNP) would be directly impacted by the weak demand and drop in commodity prices.
In the next article, we will look at China's consumer price index and producer price index.