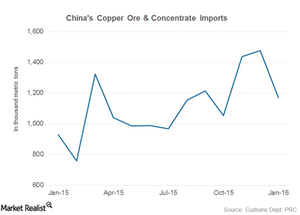 How Were China's Copper Imports in January?
China's January copper imports
While China is the largest copper consumer, it isn't self-sufficient in its raw material needs. China needs to import raw copper for its smelters and refining plants. Copper mining is concentrated in Latin America (ILF) (ECH) while more than half of the copper is consumed in Asia. China is the largest importer of copper ores, anodes, and refined copper. Miners including Freeport-McMoRan (FCX) and BHP Billiton (BHP) depend on Chinese metal demand. Rio Tinto (RIO) is building the Oyu Tolgoi mine (TRQ) in Mongolia to cater to Chinese copper demand.
Article continues below advertisement
Copper imports rise
China imported 437,000 metric tons of unwrought copper in January, a year-over-year (or YoY) increase of 5.3%. The imports of copper concentrates also jumped 20% YoY to 1.2 million metric tons. However, as compared to December, copper concentrates imports have fallen 20%. So what should we make out of this data?
The YoY growth in China's copper concentrates imports doesn't paint an accurate picture, as last year, China's copper concentrate imports fell unexpectedly in January. Similarly, even the month-over-month decline in copper imports is not all that negative, as China's copper concentrate imports reached a historical high in December.
On an average, China imported 1.1 million metric tons of copper concentrate in 2015. Thus, January 2016 imports are higher by 5.6% over the 2015 average.
Copper demand
Since we don't get estimates for Chinese copper demand, analysts track Chinese copper imports to get a sense of the Chinese copper demand. Looking at copper imports, Chinese copper demand is not as weak as many are expecting.
However, there's one more moving part that we have not considered, which is China's mined copper production. According to the last update that we have from the World Bureau of Metal Statistics, China's mined copper production fell more than 4% YoY in 2014. As copper prices are trading at multiyear lows, it makes sense for China to import the metal rather than mine it domestically. The higher imports that we see could also be a result of the substitution of China's domestic copper mine production.
In the next part, we'll explore what these data points mean for investors.