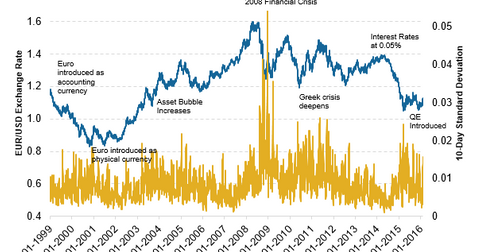 Changing Dynamics in the Eurozone: The Global Effect
By David Meyer

Updated
The beginning of the euro
The euro was first introduced at midnight on January 1, 1999, in non-physical form. It was an accounting currency with the aim to have a common currency for 19 of the 28 participating nations of the Eurozone. These nations included Austria, Belgium, Cyprus, Estonia, Finland, France, Germany, Greece, Ireland, Italy, Latvia, Lithuania, Luxembourg, Malta, the Netherlands, Portugal, Slovakia, Slovenia, and Spain.
On January 1, 2002, the euro was introduced physically and governed by the ECB (European Central Bank). At that time, the euro fell to historic lows.
Article continues below advertisement
The rally and the fall
In 2002, the euro began its multiyear rally, which continued to the beginning of 2008. Economic sentiment had improved, and then the asset inflation bubble led to the subprime mortgage crisis. A hawkish monetary policy stance maintained by the ECB against the quantitative easing program of the U.S. Federal Reserve led to further gains in the euro. The financial crisis in 2008–2009 led to a huge pileup of debt for large banks. Financial institutions, corporate firms, and households were on the verge of default on their debt payments.
Greek debt crisis
In 2010, the Greek debt crisis began, initially building from a higher current account deficit caused by higher labor costs in Greece compared to other major economies in the Eurozone. In order to fund the deficit, Greece borrowed funds from other member nations, which caused its debt burden to rise. The Greek economy could not resort to depreciating its currency to increase export margins since it was part of the Eurozone.
Deflationary pressures and a mounting debt-to-GDP (gross domestic product) ratio led to lower creditworthiness of Greek bonds, which continued to lose their worth in the market. The IMF (International Monetary Fund), the ECB, and countries such as Germany and France suggested austerity measures to be followed by the government so the economy would not default on its interest payments.
Greek Prime Minister Alexis Tsipras fought with financial institutions to provide a debt cut and remove the austerity measures imposed on the Greek government. A deadlock between both parties led to a further fall in the euro.
The iShares MSCI EMU Index ETF (EZU) and the SPDR Euro Stoxx 50 ETF (FEZ) were seen trading in negative trajectories during the period along with European ADRs (American depositary receipts) such as Deutsche Bank AG (DB), Banco Santander (SAN), and Navios Maritime Holdings (NM).
In the next part of this series, we'll take a closer look at the tumbling euro and the effect on the US dollar.