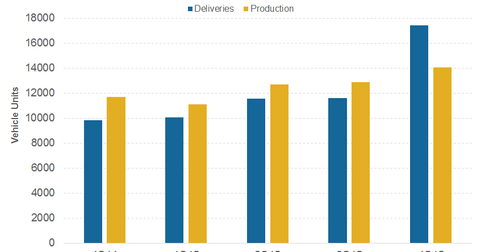 Caution! Another Delay in Model X Production Could Hurt Tesla
By Jitendra Parashar

Updated
Tesla's 4Q15 deliveries
Tesla Motors (TSLA) delivered 17,478 car units to its customers in 4Q15. As we noted in the previous part of this series, the company produced 14,037 car units during the quarter. This implies that it was able to deliver 3,441 car units from finished goods inventories. Out of 17,478 total cars, only 206 were Model X. Despite the progress on the overall vehicle production front, Model X's production progress doesn't seem impressive.
Article continues below advertisement
Lower production of Model X
According to the company, during the last quarter it "limited the production of Model X for a period of time to maintain the quality production standards." It's important for investors to note that the company started delivering Model X in September 2015 after a long delay of about two years. The delay was mainly due to supplier issues and re-tooling required to produce the car model due to a change in the supplier. However, in the 4Q15 earnings report, Tesla also added that it plans to increase the production of Model X significantly within the current quarter. The company expects Model X's production rate to approach 1,000 vehicles per week in 2Q16.
Challenges ahead
In the 4Q15 earnings report, Tesla said that it doesn't see any visible negative impact of falling gasoline prices on Tesla's vehicle order growth. During the last quarter, Model S orders grew by 35% and Model X reservations grew more than 75%. It's important to note that positive order growth is certainly a good indication. However, it doesn't mean anything if the company can't produce enough vehicles in time to convert the orders into deliveries.
Nevertheless, Tesla's challenges aren't limited to vehicles with gasoline engines. With more competition emerging from mainstream automakers, the future doesn't look easy for Tesla. Auto industry (FXD) giants like General Motors (GM), Toyota (TM), and Honda (HMC) have plans to increase their electric vehicles range in the near term. Going forward, it will be interesting to see how Tesla manages to significantly increase its Model X production. Right now, it isn't just a matter of meeting its own guidance. Tesla needs to enlarge its product range to remain in the competition.
In the auto industry, making a higher profit from each vehicle sold is one of the key parameters to judge a company. In the next part of the series, we'll look at how Tesla did in terms of its margins.