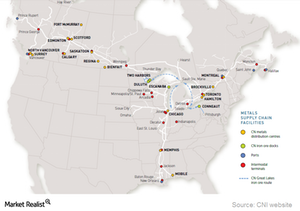 Canadian National's Metals and Minerals Business
By Samuel Prince

Updated
Metals and Minerals business
Metals and minerals commodities hauled by Canadian National (CNI) mainly include steel, iron ore, non-ferrous base metals and ores, construction materials and machinery, and dimensional loads. In metals, the company ships primarily steel, aluminum, copper, and zinc. Its railcar fleet used for hauling metals is the largest active fleet in Canada.
Canadian National has direct access to the in-demand Northern White fractionating sands in Wisconsin. CNI has an exclusive access to British Columbia shale, in addition to access to shale in Alberta and Saskatchewan. The company's mineral transportation commodities include aggregates, cement, roofing materials, non-ferrous ore concentrates, and empty railcars. It delivers an end-to-end supply chain in transporting iron ore.
From $826 million Canadian in revenues in 2007, CNI's Metals and Minerals segment reported $1.4 billion Canadian in revenues in 2015. This represents a CAGR of 7.1%.
Article continues below advertisement
Distribution facilities
Canadian National (CNI) has an exclusive network of 16 metals and minerals distribution centers in the United States and Canada. In the US, the company has distribution facilities in Chicago, Illinois; Memphis, Tennessee; and Mobile, Alabama. The important drivers for this segment are the manufacturing of automobiles, railcars, heavy equipment, aerospace, construction activity, and energy development projects in the oil, gas, wind, and solar space.
The business growth for this segment is directly associated with economic growth in Canada and the US. With the slowing of the Canadian economy and the sluggish US economy, production at plants served by CNI has gone down. The metals and minerals carloads have declined by ~17%, and the fall is 14% for CNI's prime competitor in Canada, the Canadian Pacific Railway (CP).
Peer group business
Eastern US operator Norfolk Southern (NSC) reported a fall in metals and mineral carloads by 7% in 2015. Major western US operator Union Pacific (UNP) reported a drop of 11% in the industrial products carloads, which mainly consist of construction products, metals, and minerals. Along with Kansas City Southern (KSU) and CSX Corporation (CSX), these companies form US Class I railroads.
If you want to invest in CNI, the PowerShares International Dividend Achievers Portfolio ETF (PID) holds 0.59% in the company. Investors looking for a pure play in US-specific rail stocks can invest in the Vanguard Dividend Appreciation ETF (VIG). This ETF holds 1.2% in the US-originated Class I railroads.
You can learn about CNI's forest products division in the next part.