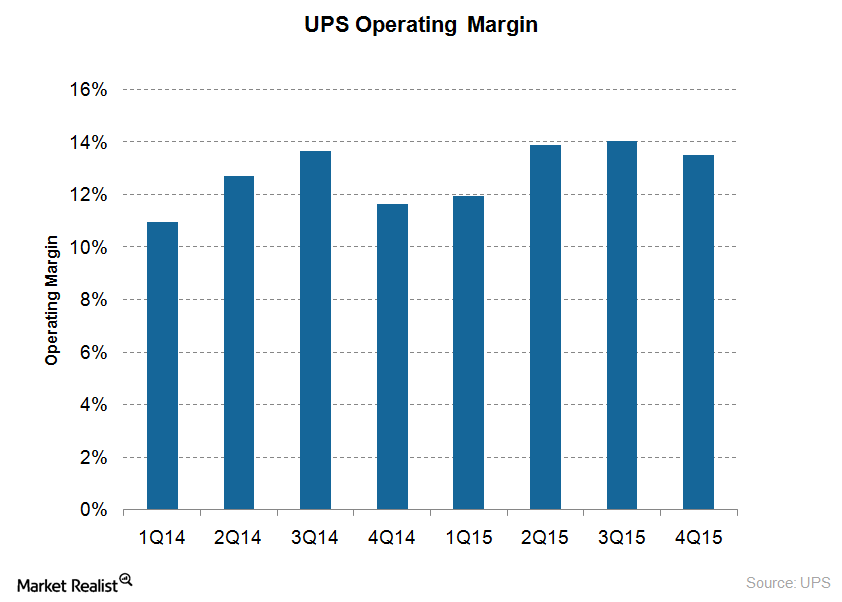 Can United Parcel Service's Margins Continue to Expand in 2016?
2015 margins expand
For 4Q15, United Parcel Service's (UPS) operating profit increased by 17% to $2.1 billion as compared to $1.8 billion in 2014. Operating margins expanded to 14% from 12% in 4Q14. It reported adjusted earnings per share (or EPS) of $1.57, a growth of 26% year-over-year.
For 2015, UPS's operating profit increased by 9.2% to $7.8 billion from $7.1 billion in 2014. EPS increased by 14.3% to $5.43 from $4.75 in 2014. Total operating expenses declined by 7%, resulting in an operating margin expansion to 13% from 9% reported in 2014.
Article continues below advertisement
Falling crude reduced costs for UPS
Declining fuel costs were the major contributor to the company's decline in operating expenses. Crude prices have fallen more than 40% in the past 12 months. As a result, UPS's major cost declined too. For 2015, UPS's fuel costs fell by a substantial 30%.
Outside transport costs fell
UPS has been unable to handle peak season deliveries successfully in the past two years. Peak season demand led to high purchased transportation costs for UPS, especially in the fourth quarter. This year, however, has been different. Purchased transport costs have fallen by 5% in 2015. Coyote Logistics, UPS's recent acquisition, helped manage this expense by providing truckload services to UPS.
Outlook
For 2016, UPS management expects another year of earnings growth. It expects to report full-year 2016 earnings per share of $5.7 to $5.9, which is a 5% to 9% growth over 2015's EPS of $5.43. These estimates might imply a slight margin expansion.
However, investors should remember that most analysts are expecting a fuel price rebound in the second half of 2016. If fuel prices rise, it will be a major blow to UPS's earnings. On the other hand, if fuel prices decline further, margins may grow more than expected.
UPS makes up 8% of the holdings of the iShares Transportation Average ETF (IYT).