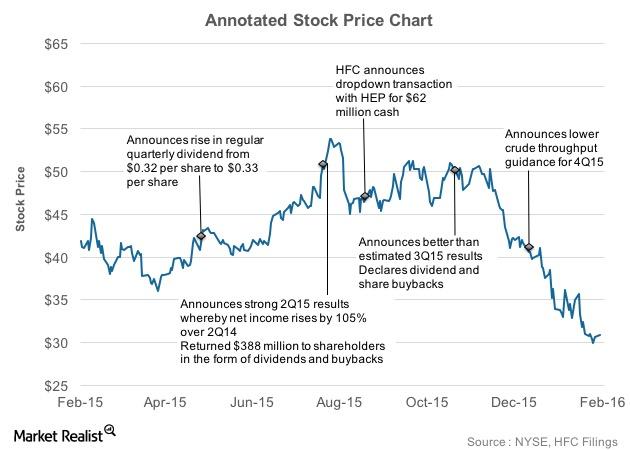 What You Can Expect: HollyFrontier's 4Q15 Stock Performance
HFC's stock performance
HFC's stock performance has been quite volatile over the past year. The stock hit highs of $54 in August 2015 and lows of $30 in February 2016. Highs came on the back of strong 2Q15 results. Plus, HollyFrontier (HFC) repurchased shares and declared dividends, which further pushed up HFC's stock price. HollyFrontier continued this trend in 3Q15 as well.
But in December 2015, the stock lost quite a bit of its gains. This loss came on the back of the crude oil export ban lifting in the United States, which raised fears of a fall in US refineries' refining margins.
HollyFrontier Corp. (HFC) gained 24% over the trailing 12 months, or TTM, leading up to December 1, 2015. It currently stands to lose 26% on a TTM basis. In fact, from December 1, 2015, to February 16, 2016, HFC's stock lost 39% of its value.
During the same period, HFC's peers Western Refining (WNR), Delek US Holdings (DK), and Alon USA Energy (ALJ) lost 43%, 52%, and 40%, respectively. The PowerShares Dynamic Large Cap Value ETF (PWV) has ~10% exposure to energy stocks.
Article continues below advertisement
4Q15 earnings: HFC's refining throughput
In 4Q15, HFC carried out some planned maintenance at its El Dorado and Cheyenne Distillate Hydrotreating units and Tulsa West Crude and Lubricants units. But the Fluid Catalytic Cracker at the Tulsa refinery had an unplanned shutdown during the quarter. Plus, weather conditions in New Mexico impacted the Navajo refinery's performance in 4Q15.
Per HFC's press release, "As a result of the weather and both planned and unplanned maintenance, HollyFrontier Corporation expects crude oil throughput for the fourth quarter 2015 to average between 395,000 and 405,000 barrels per day."