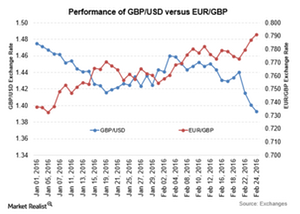 Why the British Pound Hit 7-Year Lows
By David Meyer

Updated
UK markets plunge as pound falls to seven-year lows
The United Kingdom's FTSE 100 fell by 1.9%. The looming exit of the United Kingdom (or Brexit) from the European Union weighed on investor sentiment. The British referendum is now expected to take place, and even though the chance of a Brexit has come down, the referendum has the potential to take the valuation of the pound considerably lower.
The pound fell by more than half a percent against the US dollar as a sell-off drove the markets lower. Investors scrambled to protect their investments, as the referendum could potentially affect the UK's recovery. IMF (International Monetary Fund) chief Christine Lagarde warned against a Brexit, saying that the move would hurt economic growth in the UK and the Eurozone, as the global economy has become fragile.
Article continues below advertisement
Bank of England turns dovish
Bank of England governor Mark Carney indicated that the benchmark rate could be cut to zero in order to rescue the UK economy from the global slowdown. In the light of a looming Brexit, the governor also indicated an increase in monetary stimulus to raise inflation levels and boost investor sentiment. However, he stated that the MPC (monetary policy committee) would refrain from cutting the interest rates to below-zero levels like Sweden and Denmark have.
Performance of ETFs across Europe
In sync with the British pound, the iShares MSCI United Kingdom ETF (EWU) fell 1.4% on February 23, 2016, at 12:30 PM EST as prospects of a Brexit from the EU grew stronger. The iShares MSCI EAFE ETF (EFA) was seen falling for the second consecutive session by 1.3%.
On the broad-based side, the iShares S&P Europe 350 Index (IEV) was on a negative bias. It fell by 1.2%. Negative sentiment was also present in the Deutsche X-trackers MSCI Europe Hedged Equity ETF (DBEU) and the Vanguard FTSE Europe ETF (VGK). They fell by 1.3% and 1.2%, respectively.