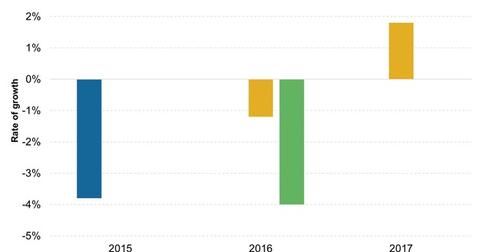 Brazil Downgraded Further: Will Mexico Remain Healthy?
By David Ashworth

Updated
Brazil downgraded again by S&P
Things just got worse for Brazil. S&P (Standard and Poor's) reduced the Latin American nation's long-term foreign currency rating by one notch to "BB" with a negative outlook on February 18, 2016. S&P, which had pushed the country's credit rating into junk territory in September 2015, took it further into that territory on the day.
Financials were hit hard after the decision, with stocks such as Itaú Unibanco (ITUB), Banco Bradesco (BBD), and Banco Santander Brasil (BSBR) tanking.
Article continues below advertisement
This is not the only bad news for Brazil, though. The OECD (Organization for Economic Cooperation and Development) has estimated that the country's economy will contract by 4% in 2016, faster than the 3.8% contraction witnessed in 2015. The institution sharply cut its previous forecast of a 1.2% contraction for 2016. The IMF (International Monetary Fund) expects Brazil's economy to contract by 3.5% this year.
Brazil has been plagued by a dire deficit situation, a fall in commodities prices, stagflation, a financial scandal, and political uncertainty, with President Dilma Rousseff undergoing impeachment proceedings. A high unemployment rate has hurt consumer spending, which has fallen for three consecutive quarters. A release by Brazil's statistics agency showed that retail sales fell 2.7% in December 2015 and 4.3% in 2015.
Article continues below advertisement
Will Mexico remain strong?
The problems in Brazil were a boon in disguise for Mexico, which looked strong in 2015. However, the fall in crude oil prices is hurting government-owned Petróleos Mexicanos, and the government may need to support the company.
The Mexican government announced a reduction in spending by 132.3 billion Mexican pesos on February 17, 2016. This amounts to 0.7% of the nation's economic output. Meanwhile, the country's central bank raised interest rates by 50 basis points on the same day to 3.75% to protect the value of the Mexican peso, whose depreciation could result in rising inflation.
For now, S&P has said that Mexico's efforts to reduce energy subsidies will help it to maintain its credit rating, even as losses rise for Petróleos Mexicanos.
Latin American–focused mutual funds
In this series, we'll look at nine Latin American–focused mutual funds (PRLAX) (MDLTX) and see how they've fared in 2015 as well as in the one-year period leading up to February 17, 2016. We'll look at quantitative metrics such as standard deviation, the Sharpe Ratio, and the information ratio, and we'll analyze their states.
We'll provide insight into how the funds are placed for now, given their quantitative measures, and what you can do with the funds.
Let's begin our fund-by-fund analysis with the Aberdeen Latin American Equity Fund Class A (ALEAX).