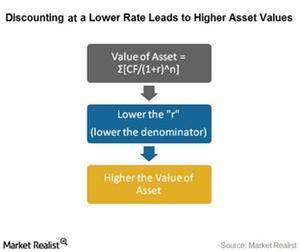 Bill Gross Believes the US Could Experience a Recession
By Surbhi Jain

Updated
Zero-bound creates asset bubbles
While acknowledging the importance of the Fed's zero-bound interest rate policy in helping asset prices stabilize, Bill Gross also believes it tends to create asset bubbles. Gross manages the $1.4 billion Janus Unconstrained Bond Fund at Janus Capital Group (JNS).
In his October 2015 investment outlook, Gross explained how discounting at a lower rate leads to higher asset valuations. This is the very reason he believes that "every asset price is artificially elevated." He believes the Fed's ZIRP (zero interest rate policy) is detrimental to liability-based business models and destroys liability-based business models such as pension funds and insurance companies.
Article continues below advertisement
Gross recommends a 2% federal funds rate
Gross has been repeatedly stressing the need for the Fed to "get off zero and get off quick." In fact, he recommends the Fed to be at a 2% federal funds rate. Stock (SPY) and bond (BND) prices would definitely tumble with such a move. But with the savings function of liability-based business models restored, it "ultimately leads to rejuvenated private investment, which is the essence of a healthy economy," said Gross.
The Fed decided to keep interest rates unchanged at its recent January meeting, stating that they're "closely monitoring global economic and financial developments." Gross took it as the Fed's inability to assess the direction of the future economy. On other occasions, Gross has criticized the Fed and called them old-fashioned for looking at the Taylor rule and Phillips curve.
Gross: The United States will experience a recession
According to Gross, "Stocks are leaning towards the impression that growth is slowing." In a CNBC interview on January 27, 2016, Gross forecast a possible recession in the United States in the next two years. Asked about his forecast on the economy for the next 24 months, Gross said, "The U.S. will experience a recession. It's been a long time. I think the U.S….is relatively highly leveraged."
In his January 2016 investment outlook, Gross has clearly been bullish on emerging markets (EEM) (VWO) (PREMX) (FNMIX) (JEMRX), particularly India. According to Gross, demographics favor emerging markets, while the US economy is broke. Gross is also bullish on the ten-year TIPS (Treasury inflation-protected securities) due to expected higher inflation.