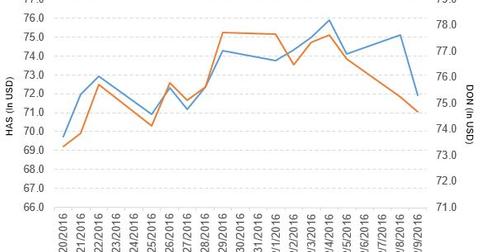 Barclays Raises Hasbro's Price Target to $73 per Share
By Gabriel Kane

Updated
Price movement of Hasbro
Hasbro (HAS) has a market capitalization of $9.0 billion. HAS fell by 4.2% to close at $71.94 per share as of February 9, 2016. Its price movements on a weekly, monthly, and year-to-date (or YTD) basis are -3.2%, 6.4%, and 7.5%, respectively.
At times, the stock has broken the support of all its moving averages. Currently, HAS is trading 0.08% below its 20-day moving average, 2.8% above its 50-day moving average, and 1.9% below its 200-day moving average.
The WisdomTree MidCap Dividend ETF (DON) invests 0.65% of its holdings in Hasbro. The ETF tracks a dividend-weighted index of mid-cap stocks. The YTD price movement of DON is -6.4% as of February 8, 2016.
The market capitalizations of Hasbro's competitors are as follows:
Article continues below advertisement
Barclays raised HAS's price target
Barclays has raised Hasbro's price target from $62 to $73 per share and maintained its rating of "equal-weight" on the stock.
Performance of Hasbro in 4Q15 and 2015
Hasbro reported 4Q15 net revenues of $1,465.4 million, a rise of 12.8% compared to net revenues of $1,298.6 million in 4Q14. Revenues of boys, games, and preschool products rose by 35.1%, 11.4%, and 17.1%, respectively, and revenues of girls products fell by 17.2%. HAS reported royalties of $149.1 million in 4Q15 compared to $90.0 million in 4Q14.
Hasbro's net income and EPS (earnings per share) rose to $175.8 million and $1.39, respectively, in 4Q15, compared to $169.9 million and $1.34, respectively, in 4Q14.
2015 results
In 2015, HAS reported net revenues of $4,447.5 million, a rise of 4.0% YoY (year-over-year). The company's cost of sales as a percentage of net revenues fell by 5.0%, and its operating profit rose by 8.9% in 2015.
HAS's net income and EPS rose to $451.8 million and $3.57, respectively, in 2015, compared to $415.9 million and $3.20, respectively, in 2014.
Meanwhile, its cash and cash equivalents and inventories rose by 9.4% and 13.2%, respectively, in 2015. Its current ratio rose to 2.7, and its debt-to-equity ratio fell to 1.8 in 2015, compared to a current ratio and a debt-to-equity ratio of 2.5 and 2.1, respectively, in 2014.
In 2015, the company gave $310.7 million to shareholders, including $225.8 million in cash dividends. It declared a quarterly cash dividend of $0.51 per share on its common stock. It also repurchased 1.3 million shares at a total cost of $84.9 million and an average price of $68.01 per share.
The PE (price-to-earnings) and PBV (price-to-book value) ratios of Hasbro are 20.5x and 5.8x, respectively, as of February 9, 2016.