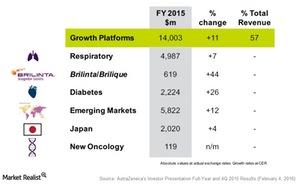 AstraZeneca's Growth Platforms: What Will This Year Bring?
By Mike Benson

Updated
Growth platforms
AstraZeneca (AZN) has classified a few products and regions as part of its growth platforms. The company's growth platforms include respiratory and diabetes products, Brilinta (Brilique in Europe), and regional sales from emerging markets and Japan. The company has also added a new oncology franchise to its growth platforms, due to new oncology products such as Tagrisso and Lynparza.
As discussed earlier, the growth platforms contributed nearly 57% of total revenues for AstraZeneca in 2015. In order to avoid duplication of products and regions, the total product sales are adjusted for the growth platforms in this article.
Article continues below advertisement
Performance of growth platforms
Respiratory product sales increased by 7% at constant exchange rates during 2015. This includes the blockbuster drugs Symbicort and Pulmicort, and new products including Tudorza, Daliresp, and Duaklir. Further details about these products will be discussed later in this series.
Brilinta (or Brilique in Europe), classified under the CVMD (cardiovascular and metabolic disease) segment of AstraZeneca, is used to prevent unwanted blood clots in heart and blood vessels. The drug reported an increase in its 2015 revenues by 44% at constant exchange rates.
The diabetes franchise includes drugs Onglyza, Bydureon, Byetta, and Farxiga. This franchise reported a 26% growth in 2015 at constant exchange rates. The 2015 revenues for the diabetes franchise were ~$2.2 billion. As this franchise is classified under the CVMD segment, further details will be discussed later in this series.
Emerging markets and China have continued to see double-digit growth year-over-year since 2014. The strong growth in emerging markets including China, Brazil, and Russia is mainly driven by established products. Emerging markets reported a 12% increase at constant exchange rates in 2015, exceeding the expected long-term target of mid- to high single-digit growth.
The revenues from Japan increased by 4% at constant exchange rates, in line with the long-term target of single-digit growth. Japanese revenues improved mainly due to Crestor and Nexium sales during 2015. The company expects regulatory approvals for Tagrisso, the new oncology drug, and Brilinta, the CVMD drug, during the first half of 2016.
As discussed, the new oncology products, including Tagrisso for the treatment of lung cancer and Lynparza for the treatment of ovarian cancer, are classified as growth platforms. Lynparza has been approved in 24 countries, it has already been launched in 15 of those.
AstraZeneca's oncology product Iressa competes with Tykerb from Novartis (NVS), Erbitux from Eli Lilly and Company (LLY), and Vectibix from Amgen (AMGN). Investors could consider ETFs such as the VanEck Vectors Pharmaceutical ETF (PPH), which holds ~4.5% of its total assets in AstraZeneca.