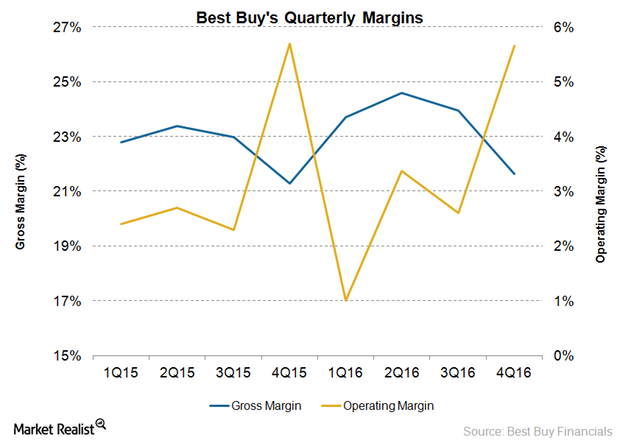 Assessing Best Buy's Focus on Cost Reduction to Enhance Margins
Focus on cost reduction
Best Buy (BBY) is focusing on reducing costs and driving efficiencies throughout its business. Best Buy's focus on cost reduction is important in driving its profitability, given the softness in certain consumer electronics categories.
Article continues below advertisement
Margins in 4Q16
Despite lower revenue, Best Buy's gross margin in 4Q16—which ended January 30, 2016—rose to 21.7% from 21.3% in the comparable quarter of the previous year. The gross margin of the company's Domestic segment rose 40 basis points to 21.6%. The rise was mostly due to a periodic profit-sharing benefit and improved rates in the mobile and computing categories. These favorable factors were partially offset by:
an increased mix of lower-margin wearable devices
a decreased mix of higher-margin digital imaging products
a lower rate in televisions, driven by a decline in average selling prices and higher distribution costs
investments in services pricing
The 4Q16 non-GAAP[1. Generally accepted accounting principles] gross margin of the company's international segment rose 10 basis points to 21.8%, driven by a more disciplined promotional strategy. Best Buy's operating margin in fiscal 2016 was almost flat at 5.7%. Aaron's (AAN) operating margin came in at 4.9% in the comparable fourth quarter. GameStop (GME) and Conn's (CONN) have yet to announce their fourth quarter earnings. GameStop's operating margin improved by 20 basis points to 4.5% in the third quarter of fiscal 2015. Conn's operating margin increased to 4.5% in the comparable third quarter from 1.2% on a year-over-year basis. The iShares Russell 1000 Value ETF (IWD) has 0.1% exposure to Best Buy.
Cost reduction program
In 2015, the company announced a cost reduction and gross profit optimization program called Renew Blue Phase 2. The initiative aimed to generate $400 million in savings over three years. The company's aim under Phase 1 of this program was to generate $1 billion of savings. In fiscal 2016, Best Buy generated $150 million in savings under the Renew Blue Phase 2 program. The company hopes to simplify its business processes in order to bring down costs. In the 4Q16 conference call, Hubert Joly, Best Buy's chair and chief executive officer, gave an example of a project focused on reducing the amount of open-box appliances coming into the store. This project should help drive material savings through lower markdowns, lower transportation costs, and better use of labor in its stores and distribution centers.
However, the company's expected future investments in labor expertise, services pricing, and key growth initiatives are likely to hurt these savings.
The next part of this series looks at the company's stock price movement.