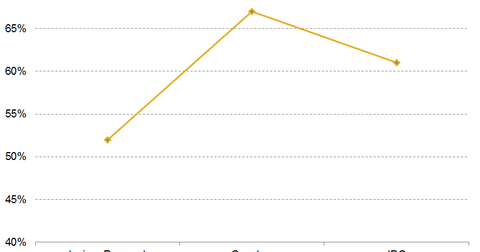 Apple Watch Price Cut Led to Apple Watch 2 Rumors
By Adam Rogers

Updated
Apple Watch price slashed by $100
Apple (AAPL) has slashed its Apple Watch price in certain retail stores by $100. This has led to rumors that Apple might unveil its Apple Watch 2 in March 2016 along with the iPhone 6C and iPad Air 3.
Article continues below advertisement
Canalys estimates Apple Watch shipments of 12 million in 2015
Apple's chief executive officer Tim Cook hasn't provided official sales figures for the Apple Watch product segment. However, Cook stated, "We expanded distribution of Apple Watch to almost 12,000 locations in 48 countries during the quarter. As expected, we set a new quarterly record for Apple Watch sales, with especially strong sales in the month of December."
According to research firm Canalys, Apple shipped 12 million smartwatches in 2015, indicating Apple controls 67% of the total smartwatch market. In November 2015, Canalys reported that Apple has shipped 7 million smartwatches since its launch in April 2015. Canalys's estimate of 5 million shipments in the holiday season puts Apple well above rival companies such as Korea's (EWY) Samsung (SSNLF) and Pebble.
Smartwatch estimates and figures vary
Gartner estimates that 30.3 million smartwatches were sold in calendar year 2015 and projects the figure to reach 66.7 million by 2017. Apple Watch sales forecasts for 2015 have varied significantly between 9 million and 30 million units. Juniper Research estimates Apple Watch to account for 52% of total smartwatch shipments in 2015.
According to Juniper Research, Android Wear (GOOG) constituted 10% of all smartwatches sold in calendar year 2015. IDC states that there were 21.3 million smartwatch shipments last year, with Apple and Google constituting 61% and 15%, respectively, of the overall market. By 2021, analysts expect the ratio of smartphone shipments to smartwatch shipments to fall from 500:1 to 20:1. Total smartwatch shipments are expected to rise to 101 million units by 2020.
As the smartwatch segment is likely to experience exponential growth in the next few years, Apple is well poised to become a market leader in this segment. Last year, retail heavyweights such as Walmart (WMT), Best Buy (BBY), and Target (TGT) started selling Apple Watches, thus increasing the product's distribution and reach.