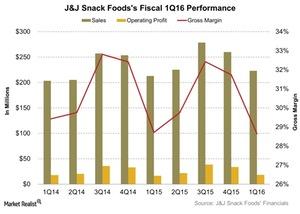 Analyzing J&J Snack Foods' Fiscal 1Q16 Performance
By Sushree Mohanty

Feb. 2 2016, Updated 10:01 a.m. ET
Revenue grew 2.5%
J&J Snack Foods' (JJSF) sales for fiscal 1Q16 increased 5% to $222.8 million, from $212.8 million in the comparable quarter a year ago. The adjusted total net sales of $259.8 million in fiscal 1Q16 increased by 2.5% year-over-year. The revenue missed estimates by 2%.
Article continues below advertisement
Segment performance
J&J Snack Foods operates through three segments:
Food Service
Retail Supermarkets
Frozen Beverages
Food Service sales increased 2% for the quarter. This increase was due mostly to increased sales of handhelds by 19%, Churros by 7%, bakery by 3%, and funnel cakes by a huge margin of 58%. Soft pretzel sales declined 5% in the quarter. Sales were down mainly due to warehouse club stores and restaurant chains, as they clashed with concerns of menu fatigue.
Sales of Retail Supermarkets products declined 5% for the quarter. Soft pretzel sales declined 5% for the quarter, and sales of frozen juice bars and Italian ices fell by 1% in the quarter. Handheld sales in the quarter decreased to $3.9 million.
The company's Frozen Beverages segment includes Arctic Blast, Slush Puppie, and frozen beverages and related products. Sales improved by 17% in the quarter. Beverage-related sales alone rose 10%, with gallon sales up 11% in the quarter.
Other key highlights of fiscal 1Q16
Gross margin for 1Q16 declined to 28.6% compared to 28.7% in fiscal 1Q15. Total operating expenses as a percentage of sales decreased to 20.4% from 20.9% in fiscal 1Q15. This decline was mainly because of higher sales in the frozen beverage business and lower marketing expenses in food service.
Operating profit for the quarter increased $1.8 million compared to the year-ago quarter. The company continued to invest in plant efficiencies and growing its business. Capital spending for the quarter was $13.3 million.
Peer performance
J&J Snack Foods' peers in the industry include McCormick & Company (MKC), which reported revenue of $1,202 million for its most recent quarter. JM Smucker (SJM) and Flowers Foods (FLO) reported revenues of $2,078 million and $885 million, respectively, for their last reported quarters.
To gain exposure to J&J Snack Foods stock, you can invest in ETFs such as the Power Shares DWA Consumer Staples Momentum ETF (PSL) and the Power Shares S&P Small Cap Low Volatility ETF (XSLV). They invest 2.9% and 0.76%, respectively, of their portfolios in JJSF stock.