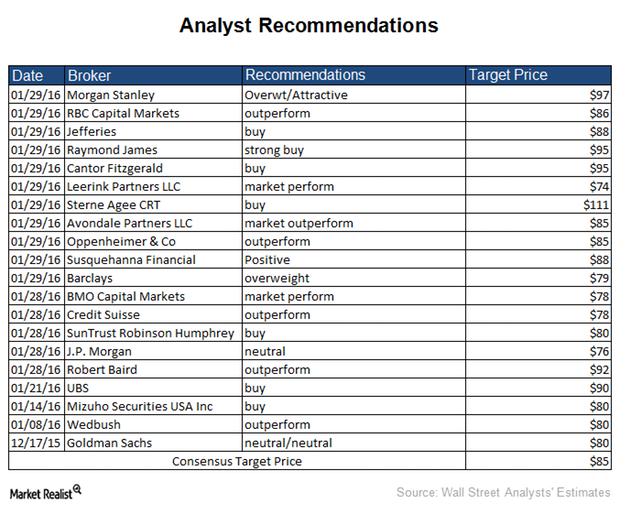 What Are Analysts' Recommendations for HCA Holdings?
Analysts' recommendations for HCA Holdings
HCA Holdings (HCA) released its 4Q15 and fiscal 2015 earnings results on January 28, 2016. In Bloomberg's survey of 26 broker firms, recorded on January 29, 2015, about 68.0% of them rated HCA Holdings a "buy," while 32.0% rated the company a "hold." None of the surveyed brokers rated HCA Holdings a "sell."
The above table shows the 20 brokerage firms that provided a target price for HCA Holdings over the next 12 months. The consensus 12-month target price for HCA Holdings was $85.2. This implies a 22.4% return compared to the company's price of $69.6 on January 29, 2016.
Article continues below advertisement
Outlook for HCA Holdings in 2016
Analysts base their stock recommendations on a company's future outlook. For 2016, HCA Holdings projected revenue of $41.5–$42.5 billion. The adjusted earnings before interest, tax, depreciation, and amortization is expected to be $8.15–$8.45 billion. According to Wall Street analysts' estimates, in 2016, hospital companies such as LifePoint Hospitals (LPNT), Community Health Systems (CYH), and Universal Health Services (UHS) can expect to earn revenue of about $5.9 billion, $20.3 billion, and $9.6 billion, respectively.
In 2016, HCA Holdings also estimated that its equivalent admissions and revenue per equivalent admission are expected to increase by 2.5%–4% and 2%–3%, respectively, YoY (year-over-year).
HCA Holdings expects to witness YoY growth of 4%–5% in revenue earned per equivalent admissions for managed care or commercially insured patients. Medicare revenue per equivalent admission is expected to rise by 1%–2% YoY. In 2016, the company expects Medicaid revenue per equivalent admission to remain at the 2015 levels.
You can also invest in Guggenheim S&P 500 Equal Weight ETF (RSP) and reduce excessive company-specific risks of investing directly in HCA Holdings. HCA Holdings accounts for about 0.22% of RSP's total holdings.