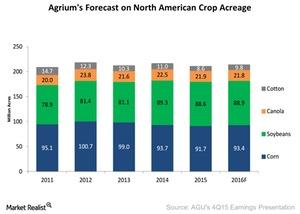 What Agrium Has to Say about the Market in 2016
Market update
Agricultural fertilizer companies such as Agrium (AGU), Israel Chemicals (ICL), Intrepid Potash (IPI), and Potash Corporation (POT) saw plenty of trouble in 2015, mostly due to weakness in global commodities and weakening currencies against the US dollar.
For 2016, Agrium's management stated that it sees challenges for nutrient pricing. You may consider a diversified portfolio such as the Materials Select Sector SPDR ETF (XLB), which invests 12% of its portfolio in agricultural chemicals.
Article continues below advertisement
Planting acreage
Agrium (AGU) anticipates that the fertilizer input demand should be "robust" on expectations that the North American market will plant more acreage in 2016. To give you a perspective, the company's management expects about 1 million–3 million more acres to be planted in 2016.
Fertilizer environment
For nitrogen fertilizer, Agrium's management stated that 2016 could see a reduction in urea exports from China despite a drop in coal prices, which makes input cost cheaper, as well as devaluation of the region's currency. The company's management believes that despite these two factors, urea prices have fallen below the cost curve for the Chinese exporters.
Agrium's management expects 12.5 million–13.5 million tons of exports from China in 2016. We believe this should support Agrium's nitrogen margins. The company expects the global shipment for potash to be "similar or slightly higher" than 58 million tons in 2016.
As a parting note, the company's management stated its view for 2016 that "both retailers and growers across global nutrient markets have been on the sidelines, waiting for improved market stability, before buying in volume, although purchases have been slow so far, we believe we will see increased buying as the spring season approaches. Fertilizer prices are highly affordable; the fertilizer costs as a percentage of corn revenue well below historical levels."