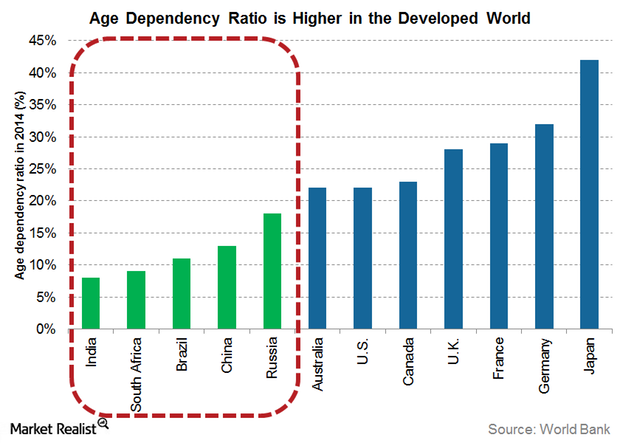 How an Aging Population Could Affect Your Portfolio
By Rick Rieder

Nov. 20 2020, Updated 5:31 p.m. ET
Where to look for opportunities
Whether you have a short- or long-term investing horizon, gaining a better understanding of the transformative long-term trends behind today's return landscape can potentially provide you with an opportunity advantage as you make your investing selections. These trends include the changing global liquidity, leverage and cash flow landscape as well as the technological innovation and demographic changes I've long been writing about.
Article continues below advertisement
Economies and markets today are in the process of adjusting to what might be the most dramatic technological evolution in history, alongside of dramatic changes in the demographic makeup of many countries. These massive secular changes should neither be seen as theoretical future events, to be worried about at some later date, nor should they be taken as hyperbole, as they are in fact very real and they are already influencing our economic and market landscape. The changing return landscape testifies to that.
So if you can, try to tune out the daily market noise and focus instead on how these big-picture shifts could impact portfolios over the longer term. The important trends that will influence the global economy for decades to come are already upon us, and you must examine for a better understanding of how market dynamics are likely to unfold. Their impact will not be felt equally by country, sector and industry. Rather, return divergence and dispersion will be the order of the day.
Article continues below advertisement
Market Realist – An aging population could affect your portfolio.
One of the big-picture shifts currently taking place is aging populations, especially in developed nations. Populations are rapidly aging in most developed countries (EFA). The proportion of the population in developed markets older than 60 was roughly 15% in 1975. That number is expected to double to 30% by 2025, according to United Nations estimates.
The graph above shows the old age dependency ratio, which measures the ratio of individuals above 64 years of age to the working-age population, 15–64 years.
Emerging markets (EEM) like Brazil (EWZ), China (MCHI)(YINN), Russia (RSX), and India (INDA)—at 11%, 13% 18%, and 8%, respectively—have lower old age dependency ratios than developed nations. Japan (EWJ) has the highest age dependency ratio at a whopping 42%. Meanwhile, the United States has an old age dependency ratio of 22%.
An aging population tends to drag on the economy, as entitlement spending is likely to increase, whereas the taxpaying population will decline.
Other big-picture shifts that could affect your portfolio are the influence of new technologies on inflation and the phasing out of financial repression.
Read What Slow Global Growth Means for Portfolios for more on effects of a global slowdown on your portfolio.