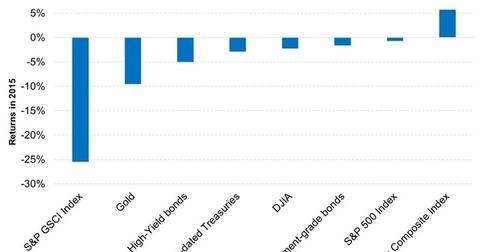 2015 Saw Declines Across the Board: Will 2016 Be Any Different?
By Rick Rieder

Updated
Last year wasn't a great one for investors seeking solid returns. With 2016 off to a rocky start, will we see more of the same this year? Rick Rieder weighs in.
Last year wasn't a great one for investors seeking solid returns.
No year since 1990 has seen more asset classes finish in negative territory than 2015, even if losses were more extreme in 2008, according to a BlackRock analysis using Bloomberg data and looking at the average of annual total returns for oil prices, gold prices, ten fixed income indices and three equity indices.
In fact, according to the Bloomberg data, in 2008 there were arguably more places one could take refuge, as U.S. Treasury and Agency debt, broad aggregate fixed income indices and gold all provided a bulwark against steep equity losses. In contrast, last year, while the extent of losses was more muted than in 2008, losses were more widespread across asset classes, the data show. Given the correlation between asset classes, there were fewer opportunities to sidestep trouble and take refuge.
Article continues below advertisement
Market Realist – 2015 saw declines across the board.
As you can see in the graph above, most asset classes saw negative returns in 2015. US equities saw muted declines last year, unlike 2008. The broad S&P 500 index (SPY)(IVV) slipped 0.7% while the Dow Jones Industrial Average or DJIA (DIA) fell 2.2%. The only major index that gained in 2015 was the NASDAQ Composite Index (QQQ), which rose 5.7%.
The S&P GSCI Index (GSG), which tracks commodity prices, saw a massive decline of 25.5%. Gold (IAU)(GLD) prices tanked by 9.5%.
Even bond prices took a hit in 2015. Long-dated Treasuries, as tracked by the iShares Barclays 20+year Treasury Bond ETF (TLT), fell 2.9% last year. High-yield bonds (HYG) and investment-grade corporate bonds (LQD) fell 5.0% and 1.6%, respectively.
Usually, during risk-off scenarios, risky assets like equities and high-yield bonds fall while safe havens like gold and US Treasuries gain. However, this didn't happen last year, with modest declines across the board.
This year so far, we've seen all three major US equity indices fall by over 10% year-to-date. Meanwhile, safe havens have gained. Gold prices have risen 12.2% as of February 11 while ten-year Treasury (IEF) yields have sunken to 1.6% compared to 2.2% at the start of the year. The correlations between safe havens and risky assets have been negative this year.
Read on to find out what to expect from the markets in 2016.