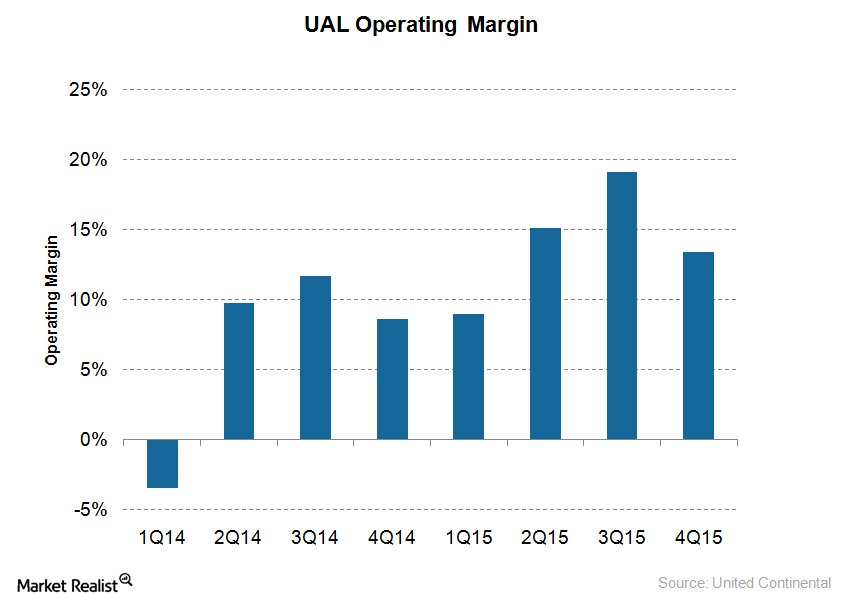 Will United Continental's Profits Continue to Improve in 2016?
By Ally Schmidt

Jan. 27 2016, Updated 4:08 p.m. ET
Historic performance
United Continental Holdings (UAL) made pretax earnings of $4.5 billion in 2015, the highest ever in United's history. The airline also achieved a return on invested capital of 21%, another record for United.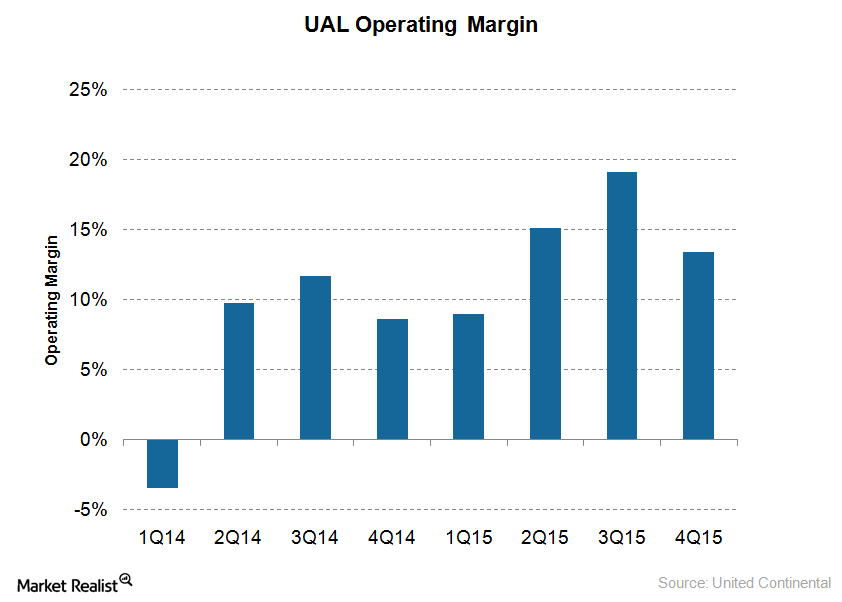 Article continues below advertisement
Financial performance
The fourth quarter of the year marked the seventh straight quarter of record earnings for United Continental, as the airline reported a net income of $934 million and earnings per share (or EPS) of $2.54. The airline saw a strong 73% year-over-year (or YoY) increase in its operating income despite a 3% YoY decline in revenues for the quarter. The airline saved about $700 million in expenses this quarter compared to last year.
For the full year, UAL's operating income jumped 117% to above $5 million due to a 10.5% YoY decline in operating expenses. The airline reported $4.5 billion of net income and an EPS of $11.88 per share in 2015. The pretax margin stood at 11.9%, or 6.8 points, higher than last year, also the highest in United's history.
Article continues below advertisement
Cost discipline helped United
Despite revenue declines, UAL's profit growth came as a result of disciplined cost management by United Continental. For the full year, the airline's unit costs (excluding fuel, profit sharing, and third-party expenses) decreased 0.7%, more than 1 point lower than their initial 2015 guidance, despite its lower-than-planned capacity reduction.
Fuel costs fell by 36% during the year. Fuel savings have been a big booster for the airline. The airline noted that their Project Quality and upgauging strategy, as well as better completion as a result of improved operational performance, played a key role in its 2015 CASM (cost per available seat mile) performance.
What to expect
For 2016, UAL expects its CASM excluding fuel to increase by 0.5% to 1.5% and from $10.18 to $10.28. Its fuel cost for 2016 is expected to decline to $1.25–$1.30 from $1.82 in 2015. This significant fuel savings can also help boost margins in 2016.
However, investors should remember that analysts are estimating margins to have peaked. Also, it is only a matter of time before fuel prices rebound as important economic production starts falling. Such events could adversely impact margins.
The PowerShares Dynamic Leisure & Entertainment Portfolio ETF (PEJ) invests 5% of its holdings in UAL. It also invests 5% of its holdings in Delta Air Lines (DAL), 2.7% of its holdings in Alaska Air Group (ALK), 2.5% in Allegiant Air (ALGT), and 2.4% in JetBlue Airways (JBLU).