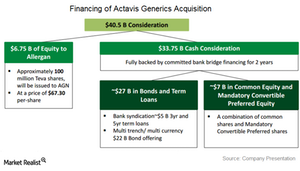 How Will Teva Finance the Actavis Acquisition?
By Peter Neil

Jan. 21 2016, Updated 12:06 a.m. ET
Financing the Actavis acquisition
On July 27, 2015, Teva Pharmaceutical Industries (TEVA) entered into a definitive agreement with Allergan (AGN) to acquire Actavis, a generics company, for $40.5 billion. The acquisition is expected to have a synergy effect in increasing Teva's commercial presence. The new combination will become one of the top three pharmaceutical companies in more than 40 markets around the world. Let's see how Teva plans to finance this acquisition.
The above chart shows Teva's plan to finance the Actavis acquisition.
Teva hopes to close the Actavis deal by the first quarter of 2016. Of the acquisition price of $40.5 billion, $6.8 billion will be in the form of equity, or 100.5 million shares of Teva. The other $33.7 billion will be financed in the following ways:
$7 billion in common equity and mandatory convertible preferred shares
$27 billion in the form of bond and term loans
Article continues below advertisement
The breakdown of the $27 billion will be $5 billion in term loans for three years and five years, syndicated through a group of banks. According to Teva, the process of acquiring the funds has already been initiated. Teva is also planning a multi-trench, multi-currency $22 billion bond offering, primarily in dollars. Some portion will also be raised in euros and the British pound and spread across various markets. According to Teva, underwriters have already been assigned to carry out these activities.
Rimsa acquisition
On October 1, 2015, Teva announced the acquisition of Mexico-based Rimsa, an independent pharmaceutical company, for an aggregate of $2.3 billion. With this acquisition, Teva will become a leading pharmaceutical company in Mexico. The financing of the Rimsa acquisition will be from a $5 billion term loan.
The Vanguard FTSE All-World ex-US ETF (VEU) has invested 0.2% of its portfolio in Teva. Other holdings of VEU include GlaxoSmithKline (GSK) and Novartis AG (NVS), both having a weight of 0.6% in the fund.